When purchasing a sunscreen for your face, avoid oil-based products. Excess oil is usually the basis of many acne problems. You should also avoid products that are scented or dyed, as these can irritate skin.
Sunscreens do not cause acne but they can exacerbate it. If you have acne it's important to choose sunscreens that are labeled oil free and non-comedogenic. Many acne medications leave the skin more sensitive to the sun so acne patients do need to wear sunscreen. This is especially true if you are using a topical retinoid or taking oral medications like tetracycline and doxycycline.
Continue Learning about Acne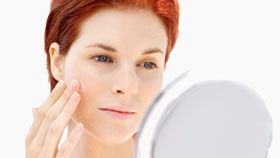 Acne is an inflammatory condition of the skin. Learn from our experts on the difference between whiteheads, blackheads and bumps and how to cope with the stress of acne.