A cyst on your neck could be a type of acne. Cysts are like pimples, but they are deeper under the skin and much larger. They are filled with bacteria and other material that have become trapped inside an oil-clogged pore. As the bacteria multiply and immune cells charge in to fight it off, the tissue around the pore becomes red and swollen as it fills with pus. Cysts can get as large as a nickel. If you have many of these larger pimples, you could have cystic acne. Cysts can erupt anywhere on the neck, face, chest, back, and upper arms, and they can leave disfiguring scars. This is considered an advanced form of acne. Consult a dermatologist for more information.
Continue Learning about Acne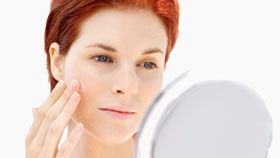 Acne is an inflammatory condition of the skin. Learn from our experts on the difference between whiteheads, blackheads and bumps and how to cope with the stress of acne.