A big and continuing trend toward oil-free everything exists as a way to prevent acne; however, different kinds of "oils" can be found in products that may or may not make acne worse.

Certain "oils/fats/lipids" are naturally found in the skin that keep it healthy and help maintain important functions, mainly as a barrier against insults from the outside world. Such protection would include helping the skin function as an effective barrier, which means it would effectively block bacteria from penetrating the skin, prevent water loss from the skin, and improve water retention within the skin to keep it looking healthy and supple. Many companies have made products that contain these "essential lipids" to not only keep the skin healthy but also to keep it looking its best.

The oils that are problematic are some of those that are produced by the sebaceous glands or certain heavier types of oils, such as mineral oil. These oils leave the skin looking shiny and can be aggravating to acne. Many products are specifically tested, now mostly in only laboratory settings and on humans for their ability to cause or worsen acne. Once they pass this test, they are labeled "noncomedogenic" or "nonacnegenic."

Many of the acne-control products available are in many ways sebaceous oil-control products. Unfortunately, a negative result of testing different batches of ingredients is that results have not been consistent, which means that the batch you are using may be more, or less, comedogenic. Also, the exact comedogenic potential of any product is not known. It is impossible to take into account all of the interactions with all the individual comedogenic and noncomedogenic ingredients included in the final mixture of the product. You have to look at your own skin and see how you tolerate certain products. Simply knowing the ingredients is not enough to make an accurate predication about whether a product will be acnegenic. Physical characteristics of the product such as the density and oiliness are also not predictive of an acnegenic response. Finally, to add to the confusion, cosmetics that do not contain comedogenic agents are not guaranteed to be noncomedogenic.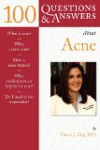 More About this Book
100 Questions & Answers About Acne
100 Questions and Answers About Acne provides you with all the information you need to manage your complexion problems. Written by Dr. Doris J. Day, a world-class expert in the field, this clearly...
Continue Learning about Acne Prevention