When you sweat, your body can lose a great deal of water as it tries to cool itself off. Just a brisk walk in warm weather, for example, can make you lose a pound of water as your body tries to resume its normal temperature. You need to drink after exercising to replace this water loss.
It is important to drink plenty of water. Thirst alone is a poor indicator of how much water you need and dehydration can have serious health consequences such as nausea and heat exhaustion.
Guidelines for fluid replacement are as follows:
Consume 14 to 22 ounces (1.75 to 2.75 cups) of fluid 2 hours before exercise
Drink 6 to 12 ounces of fluid for every 15 to 20 minutes of exercise
Fluids should be cold.
The goal is to replace sweat and urine losses.
Ingest 16 to 24 ounces of fluid for every pound of body weight lost after an exercise bout.
As soon as you're back at the house, take off your shoes and have eight to ten ounces of cool water. This will quench your thirst, replace important fluids you lost on your walk, and reduce your urge to have calorie-laden sodas, fruit drinks, or a sugary snack.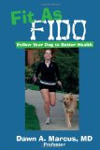 More About this Book
Fit As Fido: Follow Your Dog to Better Health
Let your dog teach you to live a happier, healthier, and more fulfilling life! Companionship with your pet can be used as a means and a motivator to increase your own physical and mental fitness....
Continue Learning about Walking Safety

While walking isn't as intense as other forms of exercise, it's still important to use proper form to prevent injury and take precautions to ensure your health and safety. Consider the time of day you will be walking and the locat...
ion -- do you need reflective gear to be seen, or sun protection? Do you know how to match your gear to the weather and terrain? How can you avoid dehydration? Be prepared, whether you're walking on a treadmill at the gym or out on a running path. Learn more about staying safe while walking with expert advice from Sharecare.
More