B vitamins may enhance the effects of certain pain relievers. Some research indicates that in people who suffer low back pain, taking a supplement containing vitamins B1, B6 and B12 along with a nonsteroidal anti-inflammatory drug (NSAID) provided better pain relief than the NSAID alone and reduced the need for the NSAID among study participants. Ibuprofen is one example of an NSAID.

B vitamins may also have direct effects on the nervous system. There is some evidence that taking B vitamins may reduce the pain of neuropathy (nerve pain) in people with diabetes or in people who are deficient in these vitamins. Talk to your doctor about whether taking B vitamin supplements is right for you.
Continue Learning about Vitamins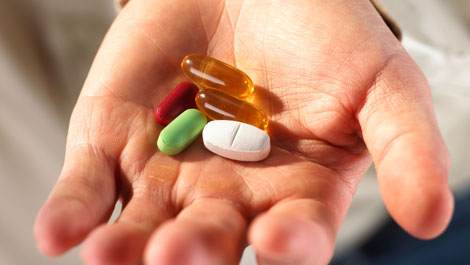 In the United States, the Food and Drug Administration (FDA) regulates vitamin supplements and provides recommended daily amount information. The FDA says that we should pay attention when considering vitamin supplements, because ...
frequently many different vitamins and minerals are combined into one product.
More