Nails can come in handy for scratching backs, digging around nostrils, and gouging attackers' eyeballs. If your nails look like cracked and crumbling sidewalks that can also crack and crumble your appearance and your confidence - not to mention give you some health problems along the way. So let's take a look at the things that play a central role in the visual state of your hands and feet.
Your nails are composed of laminated layers of a protein called keratin, which is also found in your hair and skin. Each nail has several parts, including:
-The nail plate: The visible hard part of the nail.
- Nail folds: The skin that frames each of your nail plates on three sides.
-The nail bed: The skin beneath the nail plate. The cells at the base of your nail bed are the ones that actually produce the fingernail or toenail plate.
-The cuticle: The tissue that overlaps your nail plate at the base of your nail. It protects the new keratin cells that slowly emerge from the nail bed. The area underneath the cuticle is called the matrix.
-The lunula: The whitish, half-moon shape at the base of your nail underneath the plate.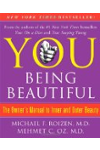 Continue Learning about Teen Perspective: Understanding Anatomy