Adults often talk about feeling "stressed out." But children can get stressed out too, and may show it differently than adults. Different children handle stress in different ways. Stress that is very intense or long lasting can affect a child's health and even make them sick. Sudden stressful events may speed up your child's heart rate and breathing, increase blood pressure, cause muscle tension, stomachaches and headaches. Stress can also interfere with sleep, behavior and school performance. If you suspect your child is stressed, talk with your pediatrician or another specialist such as a child therapist.
Try to keep your child away from unnecessary stressors such as violence in media, whether news or fictional. Don't forget that your children are always listening to you and watching what you do, and they may pick up on your own stress from work or family.
It's important to remember that children often handle stress better when they have the love and support of family and friends.
The lower your child's stress levels, the healthier your child will be - physically and emotionally. Stress not only can cause psychological difficulties for your child, but it may also manifest itself in a physical way. Some physical symptoms of stress may include headaches, stomach aches, difficulty breathing, and a lowered immune system.
Children deal with stress in different ways, depending on their age and developmental level as well as physical or emotional states of mind. For example, a child who is tired may react to stress in a different manner from a rested one. Notice how your child defends himself or herself from the negative effects of stress. Does he or she manage stress in a healthy way? Or does stress seem to paralyze your child, interfering with how he or she goes about daily activities? Is your child complaining of stomach aches or coming home from school in tears?
Some children are just more sensitive to stress than others. While one child may shrug off a bad day at school, another may spend hours worrying and lose sleep over the thought of going to school the following day. The way your child handles stressful situations may be just a part of his or her make-up, possibly inherited from family traits.
From Good Kids, Bad Habits: The RealAge Guide to Raising Healthy Children by Jennifer Trachtenberg.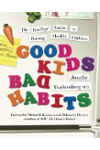 Continue Learning about Stress