What's the best way to cool-down after a soccer match?
Gentle jogging and/or skipping for 10-15 minutes after a match, followed by some static stretching of the primary muscles used during play is a customary and effective cool-down. Glutes, hamstring, quadriceps, groin, and calves should be addressed with flexibility training after every practice and game to accelerate recovery and prevent injuries. Static stretches like the supine piriformis stretch for the glutes, side lying hip flexor stretch for the quads/hip flexors, standing adductor stretch for the groin, and the gastrocmemius stretch for the calves are important to perform consistently. Ease into the stretches, performing one set on each side for 30 seconds. Cooling down following matches, practices, and training sessions is an essential part of becoming a great soccer player. Putting in a little bit of time in the cool-down will pay off throughout the season.

Continue Learning about Soccer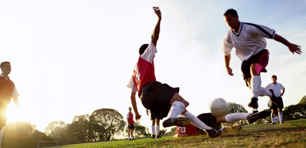 Soccer is a team sport that tests reactivity, speed, and endurance. Conditioning is important due to the fast-paced nature of the game. Agility drills help soccer players deal with the constant change of directions. Stretching and ...
hydration is essential to avoid injuries, cramps, and muscle sprains while playing soccer.
More