Many factors can make the skin of one or both hands become irritated and then thicken, and then begin to peel.

One of the most common causes is "contact dermatitis." This happens when the hand comes in contact with an irritating substance (such as dish detergent) or a substance that causes an allergic reaction (such as poison ivy).

Another cause of skin redness and peeling is a fungal infection. These are itchy and can spread to other areas. Your doctor can scrape some skin to find out if fungus is involved and then prescribe creams to relieve the problem.

Psoriasis is a common cause of skin redness, thickening, and scaling. The tendency to develop psoriasis is often inherited. Some who inherit it can develop widespread psoriasis, but others only have recurring redness and scaling. These recurrences tend to occur in skin overlying areas of the body subjected to frequent friction, such as the palm or thumb of the dominant hand.

Keratoderma describes the abnormal thickening of the skin of the hands and sometimes feet. There is redness, thickening, and scaling. This condition can be inherited or develop on its own. It is associated with psoriasis, fungal infection, eczema, the use of certain medications, and medical problems such as cancer and infection.

Contact dermatitis, eczema, and psoriasis are often treated with steroid creams applied to the skin. Fungal infections are treated with antifungal creams.

Because there are so many possible causes of hands with red, thickened, scaling skin, it is important to see your doctor. He or she can try to find what is causing it and start you on the right treatment.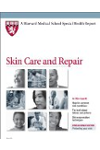 More About this Book
Harvard Medical School Skin Care and Repair
Where can you get authorotative advice on skin care? There's plenty of advice out there on TV, the internet and in the aisles of stores peddling skin care products. Despite the abundance of products...
Continue Learning about Skin Disorders