Black women may have more problems with dry skin than women of other races. Scientific studies show, for instance, that black skin does not retain as much water as white skin. In theory, that may cause skin to feel dry. One 2007 study found that black and white women tended to have dryer skin than Chinese and Mexican women, especially as they aged.
Skin dryness depends on as many factors as there are ice cream flavors. Some of the biggies include how much fat and water sit on the surface of the skin, how blood vessels react, the skin's acidity, and the amount of normal bacteria that hang out on the skin's surface. Some of these factors can vary depending on what race you are. For example, rates of water loss (called transepidermal water loss, TEWL) have been documented to be higher in black skin compared to Caucasian skin, which may put African-American women at higher risk for dry skin.
Continue Learning about Skin Disorders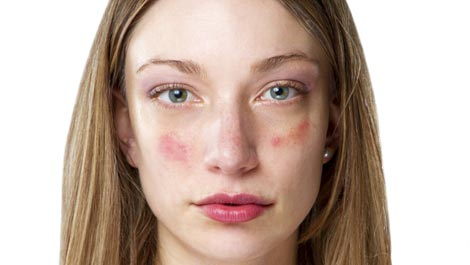 Skin disorders affect people of all ages. Rashes, cysts, breakouts, redness and blisters all can be symptoms of conditions as varied as hives, rosacea, psoriasis, eczema and acne. Talk to your doctor or a dermatologist about any l...
asting symptoms to find the appropriate treatment. A doctor also can recommend the proper therapy for conditions like brown spots, spider veins, and fungal infections.
More