In general, sexual arousal is the process of generating sufficient sexual tension so that your body crosses its threshold and releases all that tension in the explosive sensations of orgasm. The traditional model for thinking about this process is Masters and Johnson's four-phase model.
Excitement. The first phase is all about the rapid accumulation of tension. As you are stimulated, the blood vessels in your vagina and clitoris relax and fill with blood. Your heart rate, respiration rate, and blood pressure rise, and the erectile tissue all over your body (nipples, earlobes, lips, wings of the nostrils) swells and darkens.
Plateau. The second phase isn't physiologically distinct from excitement, but a lot of people will recognize the experience of the plateau. It's a sort of leveling off at a high level of arousal. During the plateau phase, your body is building up adequate sexual tension to cross the threshold to orgasm. As you approach orgasm, your abdomen and thighs get tense, your hands and feet clench uncontrollably, and your breathing becomes uneven, even gasping.
Orgasm. The third phase is what most people consider the highlight of the sexual experience. Orgasm is the explosive release of sexual tension. Honestly, no one is really sure why we have them. Most scientists assume that orgasm is there to reward men for having sex, which means they'll have more sex, which increases their chances of reproducing, but that's just an assumption; we're still waiting for the science.
Resolution. The fourth phase is the post-orgasmic denouement. This is the time when a man's erection is gone and won't be back for a while. For women, it's more complex. In fact, for some women the first orgasm is just the start. Other women would rather sleep. You can use this time for after-play or sleep, depending on what feels right for you and your partner.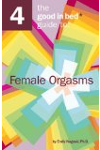 More About this Book
The Good in Bed Guide to Female Orgasms
Want to learn how to achieve 487 different kinds of orgasms?If so, you're reading the wrong guidebook. Despite what many in the media would have you believe, there's no such thing as a rainbow...
Continue Learning about Sex and Relationships