Your vaginal muscles are like any other muscle. The more you work them, the stronger they'll become. And the stronger they become, the more you'll be able to stretch them out. Yes, we're writing you a prescription for regular masturbation. You're welcome. How should you go about it? While we know that you know how to masturbate, we'd like to urge you to start small. Begin with your hands and, in addition to stimulating your clitoris, work at stretching your vaginal muscles by inserting a finger or two (or maybe even three?). From there, upgrade to vibrators, and maybe even dildos. Ben-Wa Balls can also improve vaginal elasticity. Take the time to achieve arousal, and then, slowly, penetrate yourself with your toy of choice. Aim at working your way to larger and larger toys, until your partner's penis or fist is no longer an issue.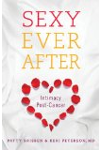 More About this Book
Sexy Ever After: Intimacy Post-Cancer
Recent studies show that 40-100 percent of men and women who have been treated for cancer have experienced some level of sexual dysfunction. Sexy Ever After: Intimacy Post-Cancer will help you...
Continue Learning about Sex and Relationships