Psoriasis can be treated with topical treatments that contain corticosteroids. These creams and lotions help control the immune response that causes rapid cell growth and scaly patches on the skin. Skin creams that include vitamin D can also help slow skin cell growth. Some patients find that phototherapy helps with symptoms.

There is also a new class of systemic psoriasis drugs that target tumor necrosis factor, a protein in the body believed to be responsible for the inflammation and rapid cell growth of psoriasis. With this therapy, patients receive injections of medications such as Enbrel and Humira every week or two.
Treating moderate to severe psoriasis usually involves a combination of treatment strategies. Besides topical treatments, your doctor may prescribe phototherapy (also known as light therapy) and/or systemic medications, including biologic drugs.
Light therapy includes:
Laser therapy, where a dermatologist uses a laser to target the psoriasis with a strong dose of light, without touching surrounding skin. It is effective for small, stubborn patches of psoriasis, such as on the scalp, feet, or hands.
Ultraviolet B (UVB) light therapy is where a patient stands in a light box or in front of a light panel. If the psoriasis responds, about 24 treatments over a two-month period usually clears the psoriasis. Although UVB is safe and effective, it does have possible side effects. These include burns, freckling, and premature skin aging.
PUVA
Dermatologists prescribe PUVA when psoriasis does not respond to other treatments. This treatment combines a medication called "psoralen" with UVA light therapy. Research shows that PUVA is effective in about 85 percent of cases.
Goeckerman Treatment
Under a dermatologist's care, light therapy can provide safe and effective treatment for many patients with psoriasis. Because too much ultraviolet (UV) light can make psoriasis worse, it is important to see a dermatologist for treatment. Never try to self-treat by using a tanning bed or sunbathing.
Drugs include:
Topical medicines applied to the skin to treat mild to moderate psoriasis. Corticosteroids (cortisone), Anthralin, Retinoids (vitamin A Preparations), and coal tar.
Corticosteroids are the most frequently prescribed medication for treating mild to moderate psoriasis. They are available as a cream, ointment, gel, foam, spray, and lotion.
Systemic medicines to treat moderate to severe psoriasis include: Methotrexate, Retinoids (vitamin A derivatives), and Cyclosporine.
Treatment options for plaque psoriasis generally fall into three categories: topical medicines like lotions, creams or ointments; pills or injections; and phototherapy (treatment by natural sunlight or controlled exposure to light). Any one category may be used or treatments may be combined. Doctors weigh treatment options based on how severe the disease is, how much of the skin is affected, and how the person responds to treatment.

Topical medicines are applied directly to the skin and are used by most people. Phototherapy should be directed by a doctor since prolonged exposure to sun or ultraviolet (UV) rays can be damaging and increase risk of skin cancer. Pills and injections typically are reserved for more severe cases.
Continue Learning about Plaque Psoriasis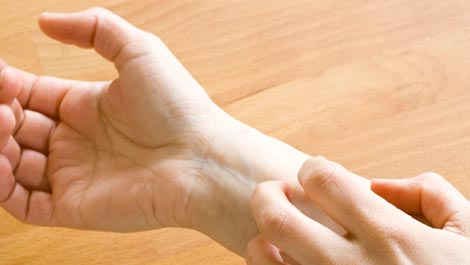 Plaque psoriasis is an incurable disease of the immune system. It varies by person but typically appears as lesions, inflammation, and redness on the scalp, torso, knees and elbows. Although researchers do not know what causes pso...
riasis, there are treatments to lessen the severity, such as topical steroid and non-steroid creams and ultraviolet-light therapy. Learn more from our experts about psoriasis.
More