Usually, a baby has her or his first bowel movement (meconium) after birth. Sometimes, however, a baby has a bowel movement before or during birth. If this happens, the amniotic fluid released when the mother's bag of water breaks will have a greenish tint. Up to one in every five babies born after 34 weeks' gestation has meconium in the amniotic fluid.
Most of the time, this is not a problem. However, if the baby is not getting enough oxygen before or during birth, she or he may take a breath and inhale some meconium. The meconium can irritate the baby's lungs and cause lung problems that are usually temporary and mild, but can be severe. If the meconium is thick, your provider will ask you to wait (pant, not push) after the baby's head is out, so that the baby's mouth and breathing passages can be cleared by suction before the rest of the baby is birthed. In most hospitals, a pediatrician, anesthesiologist, nurse, or other attendant will be present at the birth of a baby who has passed meconium, to attend to the baby if needed. Most babies who pass meconium before or during labor are healthy and do not need any special attention, but it is safer to have qualified personnel available in case their expertise is needed.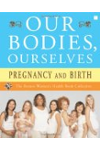 More About this Book
Our Bodies, Ourselves: Pregnancy and Birth
ALL THE INFORMATION YOU NEED TO MAKE WISE DECISIONS ABOUT YOUR PREGNANCY AND THE BIRTH OF YOUR CHILD -- FROM THE EDITORS OF THE CLASSIC "BIBLE OF WOMEN'S HEALTH" Pregnancy and birth are as ordinary...
Continue Learning about Pregnancy Complications