Watch as psychiatrist and psychopharmacologist Dr. Julie Holland discusses the pros and cons of presecription drug use.
The benefits of prescription drugs always need to be balanced with the risks of the side effects that they can cause. Nothing, even water, is completely harmless if not used correctly. Prescription drugs can cause side effects that range from minimally bothersome to life-threatening. However, today people survive infections that used to kill them and children with cancer are often cured and grow up to live normal lives. People live longer and more productive lives due in part to the benefits of prescription medications.


For almost every malady, real or imagined, there's probably at least one drug sitting in pharmacies and another barrelful in the pharmaceutical industry pipeline on the way. Americans downed more pills and supplements every single day in 2008 than inhabitants of all developed countries gulped down in a month in 1950.

This evolution is a blessing in many ways. As doctors it's a fantastic feeling to be able give a patient a new medication that will improve their lives in some way. For some, it means having hope to fight an illness or syndrome for the first time. For others, it means a faster cure. For still others, it means an end to daily nausea or other side effects while still controlling their condition. Obviously, drugs can do immense good.

But if you or your doctor gets reckless or careless with them, these drugs can do immense harm, too. It's estimated that about 40,000 people die and 1.3 million are seriously hurt every year from medication mishaps, which include taking the wrong dose, getting the wrong prescription, mixing the wrong pills, or even a combination of all three. Only about half of all prescriptions are filled or taken correctly. Some physicians are fond of saying (quite unscientifically) that for every $1 we spend on these drugs, it costs $2 to fix the problem.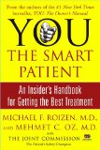 Continue Learning about Patient Education