Your core muscles are your natural weight belt. To find them, put your hand on your waist, then suck in your belly button toward your spine. Did you feel the muscles under your skin get tight? These are your core muscles. They run obliquely from your spine to the front of your body. If you were not able to feel these muscles, try bearing down like you are going to the bathroom. You should be able to feel them now. Everything we do begins with our core muscles. These are the top of the exercise food chain as far as I'm concerned.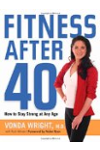 More About this Book
Fitness After 40: How to Stay Strong at Any Age
It's one of the undeniable facts of life. After we reach a certain age, our bodies change. No matter how fit we may have been at 20, we're very different people after 40. But growing older doesn't...
Continue Learning about Parts of the Muscular System