Foods always contain monosodium glutamate (MSG) if any of these are in the ingredients list:
Autolyzed plant protein
Autolyzed yeast
Calcium caseinate
Gelatin
Glutamate
Glutamic acid
Hydrolyzed plant protein
Hydrolyzed vegetable protein
Monopotassium glutamate
MSG
Sodium caseinate
Textured protein
Yeast extract
Yeast food or nutrient
Foods often contain monosodium glutamate (MSG) if any of these are in the ingredients list:
Annatto
Barley malt
Boullon
Broth
Caramel flavoring (coloring)
Carrageenan
Citric acid (when processed from corn)
Corn syrup and corn syrup solids (partly depends upon process used)
Cornstarch
Dough conditioners
Dry milk solids
Enriched
Flavoring seasonings (most assume this means salt and pepper or herbs and spices, which it sometimes is)
Flowing agents
Gums
Lipolyzed butter fat
Low or no fat items
Malt extract or flavoring
Malted barley (flavor)
Maltodextrin
Milk powder
Modified food (or corn) starch
Natural chicken
Pectin
Protein-fortified anything
Protein fortified milk
Rice or brown rice, syrup
Soy protein
Soy protein isolate or concentrate
Soy sauce or concentrate
Soy sauce or extract
Spice
Stock
Ultra-pasteurized anything
Vitamin enriched
Whey protein isolate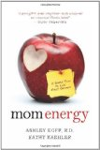 More About this Book
Mom Energy: A Simple Plan to Live Fully Charged
       From celebrated dietitian Ashley Koff and fitness trainer to the stars Kathy Kaehler comes Mom Energy, an exciting new way for moms to tap into their own natural and renewable sources of...
Hidden Sources of Processed Free Glutamic Acid (MSG)
The MSG reaction is a reaction to free glutamic acid that occurs in food as a consequence of manufacture. MSG-sensitive people do not react to protein (which contains bound glutamic acid) or any of the minute amounts of free glutamic acid that might be found in unadulterated, unfermented food.
These ALWAYS contain MSG:
Glutamate
Glutamic acid
Gelatin
Monosodium glutamate
Calcium caseinate
Textured protein
Monopotassium glutamate
Sodium caseinate
Yeast nutrient
Yeast extract
Yeast food
Autolyzed yeast
Hydrolyzed protein (any protein that is hydrolyzed)
Hydrolyzed corn gluten
Natrium glutamate (natrium is Latin/German for sodium)
These OFTEN contain MSG or create MSG during processing:
Carrageenan
Maltodextrin
Malt extract
Natural pork flavoring
Citric acid
Malt flavoring
Bouillon and broth
Natural chicken flavoring
Soy protein isolate
Natural beef flavoring
Ultra-pasteurized
Soy sauce
Stock
Barley malt
Soy sauce extract
Whey protein concentrate
Pectin
Soy protein
Whey protein
Protease
Soy protein concentrate
Whey protein isolate
Protease enzymes
Anything protein fortified
Flavors(s) and flavoring(s)
Anything enzyme modified
Anything fermented
Natural flavor(s) and flavoring(s)
Enzymes anything
Seasonings (the word "seasonings")
In Addition...
The new game is to label hydrolyzed proteins as pea protein, whey protein, corn protein, etc. If a pea, for example, were whole, it would be identified as a pea. Calling an ingredient pea protein indicates that the pea has been hydrolyzed, at least in part, and that processed MSG is present. Relatively new to the list are wheat protein and soy protein.
Disodium guanylate and disodium inosinate are expensive food additives that work synergistically with inexpensive MSG. Their use suggests that the product has MSG in it. They would probably not be used as food additives if there were no MSG present.
Continue Learning about Nutrition