The symptoms of all types of muscular dystrophy progress and worsen over time, but the progression depends on the type of disease you have. Most types of muscular dystrophy progress relatively slowly over the years, eventually causing joint and muscle problems and potentially leading to a loss of mobility. In those cases, however, there are treatments like physical therapy and medications that may slow the progress of these symptoms. Other types of muscular dystrophy progress more quickly or may have spurts where symptoms become much worse. This is generally the case with congenital muscular dystrophies, which affect children very early in their lives. Talk to your doctor to learn about the progression of your particular type of muscular dystrophy.
Continue Learning about Muscular Dystrophy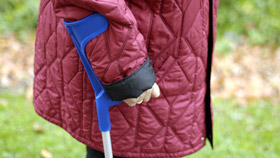 Muscular dystrophy (MD) refers to a group of more than 30 genetic diseases that cause muscle degeneration, progressive weakness and chronic or permanent shortening of tendons and muscles. Treatment focuses on symptom management an...
d can include steroids, physical therapy, breathing support devices and surgery. The prognosis varies according to the type of MD and the speed of progression.
More