Don't put Vaseline on your lips. Vaseline is made from the goop that comes from oil drills (petroleum jelly, remember?), so it's something you don't want too close to your mouth because you'll ingest little bits each day. Instead, use cocoa butter or Burt's Bees Balm to moisten up dry lips (they use beeswax -- good for bees, ok for you).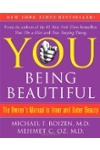 Continue Learning about Skin Care

Blueberries, dark chocolate and sunscreen are three things you need to keep skin beautiful, supple and smooth. Antioxidant-rich foods such as berries, dark chocolate, cantaloupe, citrus fruits and leafy greens provide the vitamins ...
you need for skins elasticity. Avoiding smoking prevents premature aging. But the number-one way to keep skin gorgeous is to stay out of the sun and away from tanning beds. The suns radiation causes skin damage, including wrinkles, age spots and skin cancer. Use a sunscreen that protects against UVA and UVB rays in an SPF of 15 or higher, and reapply often.
More