It is very difficult to predict when you will experience your final menstrual period. On average, U.S. women who go through natural menopause, experience last periods at about age fifty one, but the range from forty to sixty years old is considered "normal."
If you smoke or if your mother had relatively early menopause (closer to forty than fifty), you are likely to have your last period earlier than average. If you are or have been poor, have relatively little formal education, or work in a blue-collar job, you are more likely to experience menopause at a younger age (for reasons that are not clear, although nutrition may be a factor).
Having had your first period later than average is also associated with having an earlier menopause, as is never having been pregnant.
If you drink alcohol, you are likely to have a later menopause than if you do not drink. Higher income, more education, and higher job status are also associated with later menopause (perhaps because of better nutrition and other health behaviors). Women who have had one pregnancy have on average a slightly later menopause than those who have never been pregnant, and those who have been pregnant twice have a slightly later menopause on average than those who were pregnant only once, suggesting that the more pregnancies a woman has, the later her menopause.
Finally, women born later in the twentieth century are experiencing menopause later, on average, than those born earlier in the same century. This change may be because of improved nutrition.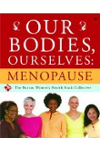 More About this Book
Our Bodies, Ourselves: Menopause
FROM THE EDITORS OF THE CLASSIC "BIBLE OF WOMEN'S HEALTH," A TRUSTWORTHY, UP-TO-DATE GUIDE TO HELP EVERY WOMAN NAVIGATE THE MENOPAUSE TRANSITION For decades, millions of women have relied on Our...
Continue Learning about Menstruation