If you have Parkinson's disease, these tips may help make mealtimes easier:
If grasping and holding onto silverware is difficult, use modeling clay; foam tubing, which comes in a variety of thicknesses; or heat-activated pellets to build up the handles on utensils. Another solution is to purchase stainless steel flatware with big bamboo or plastic handles that are easier to grip. Some specialty catalogs and medical supply stores sell inexpensive utensils specially designed for easy use. Note: Using weighted, built-up utensils may also help decrease tremors while eating.
Use a glass or metal pie pan instead of a regular plate, if you have trouble keeping food from sliding off the plate. Use a plate guard or a pasta bowl with high sides, because it will be easier to get food onto the spoon or fork. Plate guards can be attached to plates to provide a rim on one side. Use your fork to push food against the guard, where food will fall onto the fork. Plate guards also help reduce spills.
Place Dycem rubber pads or Rubbermaid mats underneath plates, cups, and serving dishes to keep them from sliding.
If you have hand tremors or a weakened grip, make handling a drinking glass an easier task with these suggestions:
Wind several thick rubber bands around the glass.
Drink from a plastic water bottle (or sports bottle) instead of a glass. The small opening at the top prevents beverages from sloshing out; when sealed, the cap prevents spills if the bottle is accidentally bumped or tipped.
Use a flexible plastic drinking straw instead of drinking directly out of a glass. To better hold a straw in place, find a lid of a plastic container (the same diameter as your glass), punch a hole in the lid, and insert a straw into the hole. You'll find that the straw does not slide around in the glass.
Use a child's cup with a built-in straw for drinking.
Drink from a cup or mug that has two handles.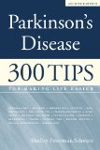 Continue Learning about Living With Parkinson's Disease