The highest concentrations of quercetin are found in berries and onions. Elderberries, of all the berries, are very rich in quercetin, but blueberries—and all other berries—also contain substantial amounts of quercetin. So, while the average American consumes only 20 milligrams of quercetin per day, vegetarians who eat a lot of apples, onions, berries and that sort of thing have been found to get 100 to 200 milligrams daily.
People with high quercetin intake have a 60 percent reduction in lung-cancer death rates. They have a third less incidence of heart disease, and research shows that they have less pancreatic and colon cancer as well.
If people increase their intake of apples, onions and berries, over the long term they should experience lower rates for various types of cancer and heart disease.
Continue Learning about Immune System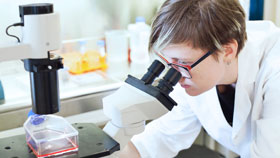 Immune and lymphatic system health is necessary for protecting your body from germs and diseases. Known as the body's first line of defense, your immune system and lymphatic system help protect you from bacteria, viruses and fungi ...
that cause disease. Your lymphatic system produces and carries white blood cells containing antibodies that fight off infection. Your lymphatic system transports and destroys dead or damaged cells and cancer cells, removing these substances from the blood stream. Problems with your immune and lymphatic system can result in various diseases. A weakened immune system can lead to diseases including cancer, the flu and chronic fatigue syndrome. An overactive immune system can lead to diseases including multiple sclerosis (MS), Huntingdon's disease and lupus. Allergies occur when your immune system mistakes harmless substances for threats and attacks these harmless substances.
More