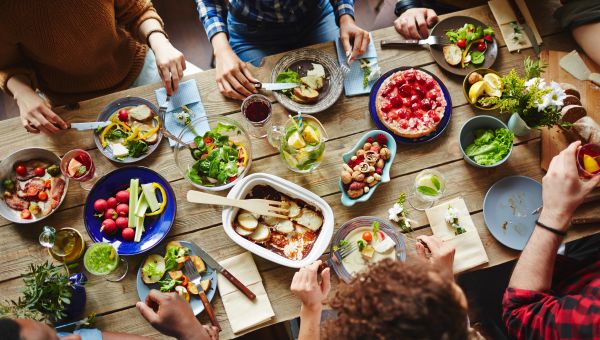 They have nothing to do with what you eat—or how much.
1 / 8
While our eating habits are influenced by biology and genetics, they're also shaped by factors within our control, including our relationships with friends and family, our finances and our sense of purpose in life.
As part of the 2016 Community Rankings for Healthy Eating, Gallup and Sharecare asked more than 350,000 people if they had eaten healthy the previous day. Researchers found that these seven social- and purpose-driven factors are related to whether or not they said yes.
Medically reviewed in March 2020. 2 / 8

#1: An encouraging person

Whether it's a mentor, a coach or your best friend, if someone is cheering you on, you have a pretty good chance of accomplishing your goals. That goes for maintaining a nutritious diet, too. In the survey, 67 percent of those who agreed that they had a person in their life encouraging them to be healthy, were healthy eaters; only 48 percent of those who didn't have that same support were healthy eaters.

Multiple studies have found that coaching—whether in person or over the phone—is an effective tool in helping people lose weight. Coaches promote healthy eating and keep people accountable for their actions. 3 / 8

#2: A positive support system

Gallup and Sharecare found that people with positive energy from friends and family were in good shape; about 2 out of 3 had eaten healthy the previous day. In comparison, only 1 out of 2 who didn't have positive energy from friends and family ate healthy. That could be because a supportive social network is crucial to our diets, as well as our overall well-being. Research shows high-quality bonds promote healthy behaviors, like eating well and exercising, and inspire feelings of purpose and meaning, which are linked to lower risk of disease.

Studies have found the opposite, as well. Isolated people—those who lack consistent contact with family and friends—tend to eat worse than those with a thriving social life. They're at greater risk for heart disease and cancer, among other life-threatening conditions. 4 / 8

#3: Reaching your goals

About 7 in 10 of those who had reached most of their goals in the previous 12 months were healthy eaters, compared to just over 5 in 10 for those who had not reached most of their goals. This achievement—or sense of purpose—is crucial to our well-being. Finding meaning in our lives may inspire positive behaviors like healthy eating and exercise, and can help reduce the risk of dementia, cardiovascular disease and stroke. Ultimately, it can add years to your life, too. 5 / 8

#4: Learning something daily

Another big influencer of healthy eating? Embracing new adventures and exploring the world around you. More than two-thirds of the survey respondents who said they learn new things or do something exciting every day are healthy eaters, as compared to approximately half of those who don't learn new things every day. Who knows? That natural curiosity—that hunger for exploration and knowledge—could apply to trying new foods, too.

Natural inquisitiveness helps in other ways, as well. In older adults, curiosity is linked to healthier central nervous systems. Plus, it's thought that learning a new skill can help keep your mind sharp as you age.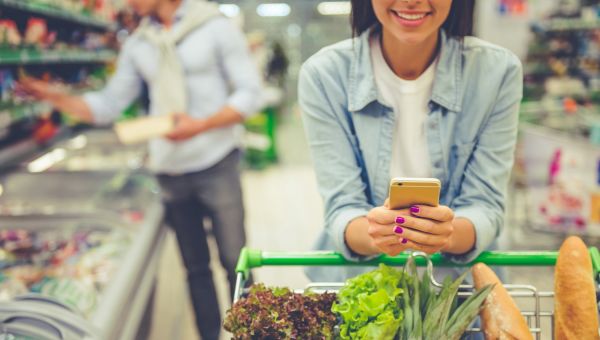 6 / 8

#5: A good primary relationship

A solid connection to one person is a big factor in healthy eating. Gallup and Sharecare found that 65.2 percent of participants with a very close partner or friend ate well the previous day, compared to 52.4 percent who didn't have good primary relationship.

It's well documented that our spouse influences what, how much and under what circumstances we nosh. The quality of that relationship is also a key factor in overall health; having a good partner can reduce stress, lower the risk of depression and cardiovascular disease, and help you live longer.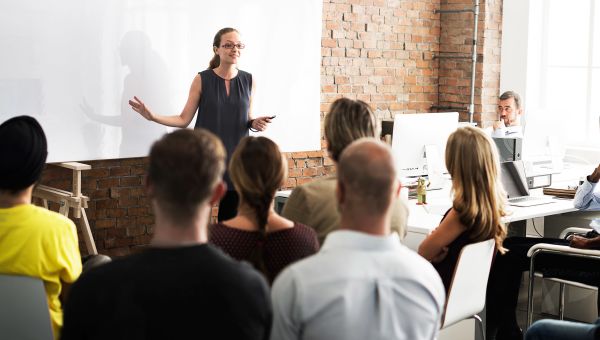 7 / 8

#6: An inspiring leader

If you've ever had a truly inspirational leader or mentor, you know it can change your whole outlook. Good leaders make people happier, more engaged, more productive and, as it turns out—better eaters. Gallup and Sharecare discovered that people were more likely to eat healthy the previous day if they have a leader who makes them feel enthusiastic about the future.

This is evident in even the youngest Americans; good teachers—ones who actively help introduce kids to healthy eating and model good mealtime behavior—can have lasting effects on their students' diets and overall well-being. 8 / 8

#7: Enough money

When it comes to a good diet, money almost always matters. Study after study confirms that higher-income people often have better access to nutritious foods like fresh produce, lean meats and whole grains. Given the choice, they're likelier than those with a lower income to pick healthier foods, too.

It's no surprise, then, that Gallup and Sharecare found that almost 69 percent of those reporting having enough money to do everything they wanted to do were healthy eaters.

Of course, there are ways to eat well on a budget. Check out these nine healthy hacks to save money.
Continue Learning about Healthy Habits