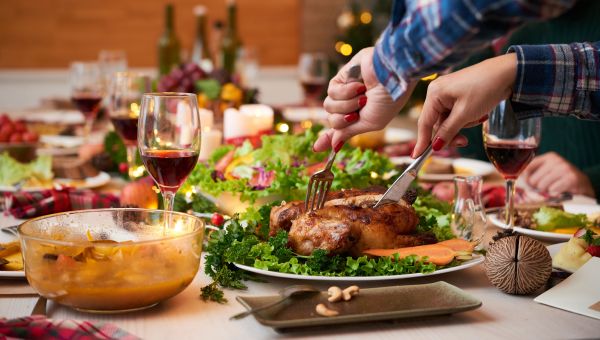 Keep your ticker in tip top shape this season by including these heart-friendly foods at your family meals and seasonal cocktail parties.
1 / 9
The holidays can be hard on your heart. Pressure to find the perfect gifts and tidy your home for guests can be stressful, not to mention the tasty—but less than healthy—spread many of us enjoy this time of year.
Your diet is a major factor that can make or break the health of your heart. From appetizers to desserts, most holiday tablescapes are loaded with foods the American Heart Association recommends avoiding, like processed meats, refined carbohydrates and treats rich in both sodium and added sugars.
"Certainly, people with heart conditions are a little bit more prone to problems, but it really applies to everyone," says Jerome Horwitz, DO, a cardiologist with Lourdes Health System in Cherry Hill, New Jersey. "We'd like to have everyone on an eating schedule for heart health," he adds.
You don't have to avoid your favorite dishes. Indulge sparingly while adding these delicious heart-healthy foods to your holiday menu.
Medically reviewed in November 2018. 2 / 9

Sweet potatoes

Not all carbohydrates should be off limits. In fact, starchy sweet potatoes make a heart-smart addition to your holiday spread. A cup of cooked sweet potato contains more than 6 grams of dietary fiber, which can lower risks of heart disease, stroke and obesity.

That's not all. The root vegetable is also rich in potassium and magnesium, with 27 percent and 14 percent of the daily recommended value (respectively) in a single cup. These minerals help keep blood pressure levels in check.

Ready to eat? Enjoy sweet potatoes two ways:
Peel, dice and roast at 375 degrees Fahrenheit with a drizzle of olive oil and a sprinkle of paprika, cinnamon, garlic powder and black pepper. Bake until tender, about 30 to 45 minutes. Serve alone, or on top of salad greens.
Pierce whole sweet potatoes several times with a fork and bake at 400 degrees Fahrenheit for 45 to 60 minutes. Remove tender, orange flesh and mash with a dash of ground cinnamon and a splash of vanilla extract. Top with chopped pecans and serve. 3 / 9

Brussels sprouts

Don't knock 'em until you try 'em. Brussels sprouts are delicious and in season during the fall and winter months, so they're at their cheapest and freshest. Wow the crowd with the bright flavors of this side dish.
In a nonstick frying pan, heat 2 tablespoons of olive oil and a diced yellow onion until fragrant.
Next, added 1 pound of halved Brussels sprouts and saute until edges begin to brown.
Add half a cup of low-sodium vegetable broth, the juice and zest of one lemon and black pepper to taste. Cook until tender, about 10 minutes.
A half-cup serving of tender sprouts contains 2 grams of fiber and just 28 calories. Both fiber-rich and low-calorie foods can help protect against obesity, which affects nearly 40 percent of US adults and can raise your heart disease risk. 4 / 9

Berries

The holidays aren't complete without dessert, but not many treats are made with wholesome and cardio-smart ingredients. It's possible, however, to prepare delicious sweets that are good for your heart.

Blueberries, strawberries, blackberries and raspberries are good sources of antioxidants, which help protect your cells from free radical damage. Some research suggests antioxidant-rich fruits and veggies can help safeguard your heart against disease.

"I think you lose a lot of the protective qualities to the heart, the antioxidants and other things, when foods are processed already," Horwitz says. "So, I like fresh foods from your supermarket."

Finding fresh (and reasonably priced) berries at your local grocer during the colder months can be a challenge, but there are an array of options in the frozen food section. Pick up a bag with no added sugars and use them in:
Apple and berry crumble
Greek yogurt dessert parfaits 5 / 9

Apples

Apples almost never go out of season. They're versatile, too, and can be added to both sweet and savory dishes.

The fruit's high fiber content makes it helpful for lowering cholesterol levels and promoting a healthy weight. Anyone—with or without a heart condition—can benefit from a healthy, fiber-rich diet.

Simple ways to add apples to your holiday table:
Blend Granny Smith apples into butternut squash soup
Slice apples into your seasonal salad
Layer lean pork loin or turkey breast with thin apple slices and bake
Cut your favorite variety in half, remove core and top with cinnamon before baking 6 / 9

Nuts

Don't forget about the pre-party snacks! Swap chips, pretzels and fatty dips for crunchy and filling nuts, like almonds, cashews and pecans. Sure, they're high in calories, but there are plenty of benefits to munching on a small palmful. They're packed with protein, which will satisfy hunger better than refined carbohydrates. Nuts also contain unsaturated fats, which are thought to improve blood cholesterol levels when eaten in place of saturated fats.

Dazzle your guests with these heart-healthy roasted nut recipes. Start by spreading your unsalted nut of choice in a single layer on a baking sheet lined with parchment paper. Lightly coat your nuts in olive oil spray and sprinkle with:
Black pepper, paprika, cinnamon and cayenne pepper
Pepper, chili powder and lime zest
Vanilla extract, cinnamon and unsweetened cocoa powder
Bake at 350 degrees Fahrenheit for about 15 minutes or until warm and crisp. Serve right away or let cool and store in an airtight container until guests arrive. Walnuts, pecans, peanuts, almonds and cashews are all standout options—or create your own mix! 7 / 9

Black beans

Black beans are heart-healthy for a number of reasons. They're a good inexpensive source of plant-based protein, with about 15 grams per cooked cup. "I'm a proponent of a lot of more vegetables and plant-based nutrition that we don't see a lot of in our society," Horwitz says. Black beans are also high in fiber and potassium, with almost no saturated fat.

Cook dried beans in water on your stovetop or use the canned variety in a pinch. Drain and rinse your canned black bean to remove excess sodium, which can increase blood pressure levels.

For a quick black bean soup:
Combine a few cans of black beans, canned, diced tomatoes and low-sodium chicken broth in a pot.
Bring soup base to a boil and add in pepper, ground cumin and cayenne pepper.
Let simmer for 30 minutes and serve with chopped green onions and a dollop of plain, nonfat Greek yogurt.
Cooked beans also make a speedy addition to grain dishes and salads. Try blending with garlic, onion and your favorite seasonings to make a creamy dip. 8 / 9

Salmon

Make this swimming seafood the star of your holiday table instead. Per 3-ounce serving, salmon is low in saturated fat while offering a dose of heart-healthy unsaturated fats, like omega-3 fatty acids. It's also a rich source of potassium.

How you prepare your food can also affect the health of your ticker. Horwitz recommends against frying. "It may taste good, but it certainly will affect cholesterol and other issues in the heart that can lead to further heart disease."

Instead, steam or bake your fish. Season fillets with black pepper, garlic powder and paprika. Top with thin slices of fresh lemon and bake at 350 degrees Fahrenheit for 15 or 20 minutes. To save time, cook your main course and side dish at the same time by adding fresh veggies to your steamer or roasting pan. 9 / 9

Don't overdo the booze

For decades, alcohol was thought to protect against heart disease, but an emerging body of research now suggests the risks of drinking alcohol may outweigh the potential benefits.

Skip the booze and sip festive (and alcohol-free) "mocktails" instead!
Fill a champagne flute with your favorite calorie-free seltzer—like lime—and add a splash of all-natural cranberry juice. Garnish with fresh or frozen berries.
Steep a bag of apple tea and pour into a glass with ice, a splash of seltzer, a cinnamon stick and apple slices. Use apple or cider-flavored seltzer if you can find it, or substitute for plain seltzer.
Muddle a few fresh or frozen blackberries with a small piece of ginger root in the bottom of a glass and top with seltzer and a few ice cubes.
If you choose to sip a boozy cocktail or two, do it responsibly. "I'm not saying you can't ever have a cocktail or glass of wine, but my concern is excessiveness," Horwitz says.
Drinking too much over a long period of time can do some serious cardiovascular damage, but there are risks of overdoing the booze on a single occasion, too. A few too many drinks can lead to what's known as holiday heart syndrome, or an irregular heartbeat brought on by too much alcohol.
Remember: It's totally possible to enjoy the holidays and keep your heart healthy.
Continue Learning about Healthy Foods & Cooking