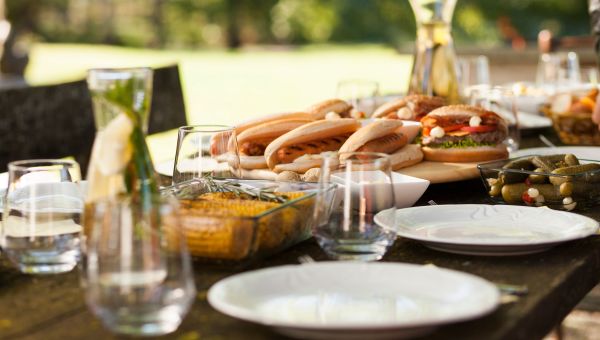 Hamburgers vs. Hotdogs—the Best Foods to Choose at a BBQ
Navigate your next cookout without totally destroying your diet.
1 / 7
By Taylor Lupo
Cookouts are a summer staple, but they're not often known for their wholesome food selections. And sticking to a healthy diet can be difficult when you're confronted with an all-American spread that includes ribs, burgers and beer.
Sure, choosing reasonable portions of your favorites is one way to avoid overdoing the buffet and burger bar, but there may be some better-for-you foods to sink your teeth into. Not to mention, some seriously unhealthy eats to avoid.
Can't choose between a hotdog and a hamburger? Unsure whether creamy potato salad is healthier than coleslaw? Read on for the healthiest and unhealthiest summer fare, plus tips for best navigating your next backyard 'que. 2 / 7

Hotdogs vs. hamburgers

You can't have a proper cookout without burgers and dogs but helping yourself to one of each may be sabotaging your diet. Is one more waistline-friendly than the other?

Not including any toppings, a single beef frank contains roughly 150 calories and just 5 grams of protein. Enjoying it with a potato roll adds 140 calories, 24 grams of carbohydrates and 5 grams of sugar. Each frankfurter contains almost 14 grams of fat, between 5 and 6 of which are saturated, the unhealthy kind.

A plain hamburger packs more calories, but the less fatty blends offer fewer grams of the saturated stuff and way more protein (about 21 grams). A flame-broiled 3-ounce patty made with 90 percent lean ground beef contains 180 calories and just under 4 grams of saturated fat. Choosing the 80 percent lean meat adds 50 calories and 1.5 grams of fat per burger. Serving either hamburger on a doughy roll adds 130 calories.

Consider your health goals before making your selection. Hotdogs may save you calories, but lean beef patties have less fat and more protein. Hotdogs are also processed and many varieties are loaded with excess sodium. If turkey burgers are an option, they may be the best way to go. A 4-ounce patty made with 93 percent lean turkey has 160 calories, 22 grams of protein and 2.5 grams of saturated fat.

Skip the bun to cut back on calories and munch with toppings like lettuce, tomato, onion, pickles and mustard. 3 / 7

Potato salad vs. coleslaw

A traditional potato salad is blended with sour cream or mayonnaise and a plethora of flavors, like vinegar, mustard and herbs. Some home cooks also incorporate diced hard-boiled eggs, along with onions and celery. Depending on how it's prepared, a cup of this side dish can deliver a whopping 355 calories and 20 grams of fat—some varieties may have more or less.

Coleslaw also tends to be mayo-based, stirred with cabbage, vinegar and a sprinkle of salt and pepper. Various recipes will have different nutrition information, but a cup of certain homemade slaws can contain about 94 calories and 3 grams of fat. The mix offers fewer than 2 grams of protein, which is far less than the almost 7 grams a serving of potato salad has.

If calories are a concern, coleslaw is likely the wiser choice. Still, a cup of the stuff may be more than you should add to your plate. Scoop out just half a cup; the serving should be about the size of a tennis ball.

If you're bringing a dish to your summer get together, offer to whip up a lighter version of these salads. Skip the mayo and sour cream and stir in plain, nonfat Greek yogurt or a modest amount of mashed avocado. 4 / 7

Marinated veggie kabob vs. ear of corn

Don't forget the veggies! Sweet summer corn is a must when the grill comes out, but it may not the most nutritious veggie at the BBQ. Per ear, corn contains just 60 calories and less than 1 gram of fat, but it also offers few vitamins and minerals and little protein. A tablespoon of butter adds 100 calories to your corn.

Before you choose a cob, check out other options, like veggie kabobs. Colorful skewers are often made up of a number of different vegetables, each with beneficial vitamins and minerals to offer. A kabob built with a quarter cup each summer squash, white button mushrooms, red bell pepper and chopped onion has just 37 calories and is rich in vitamins A and C.

Veggies coated in marinades and dressings may contain more calories than you realize. A tablespoon of Italian dressing adds 55 calories, and a similar serving of BBQ sauce has about 25.

Without a pat of butter or drizzle of unhealthy sauce, both corn and veggie skewers are healthy choices, but ask the host how they were prepared before digging in. 5 / 7

Shrimp cocktail (with sauce) vs. deviled eggs

Both shrimp cocktail and deviled eggs are easy make-ahead appetizers for an outdoor party. But if you're going to snack before the main course, you should know how many calories you could be consuming, along with the amount of fat, sugar and sodium per serving.

Classic deviled eggs are made by removing the yolks from hard boiled eggs and mixing the creamy yellow centers with mayonnaise, mustard and paprika. Some even add a touch of vinegar or sweet relish before piping the smooth mixture back into the hollowed egg whites. Depending on the specific ingredients, a whole egg—two filled halves—can add between 90 and 130 calories, 10 or 11 grams of fat and 6 grams of protein to your plate.

Shrimp cocktail, bite-sized crustaceans that are boiled and served chilled, contain 22 calories per four large shrimp. They also offer just under 5 grams of protein and less than a quarter of a gram of fat. If accompanied by cocktail sauce, a sweet and tangy dip, this adds 28 calories per ounce plus almost 2 grams of sugar.

Sauce included, shrimp are probably the more health conscious choice. If you're looking to avoid added sugar and sodium found in cocktail sauce (215 milligrams per ounce), plate up a few with a squeeze of fresh lemon juice. 6 / 7

Frozen margarita vs. beer

You can't celebrate summer without a cocktail or two. However making better beverage choices might mean the difference between slight post-party belly bloat and actual weight gain.

A 4-ounce serving of traditional margarita mix contains 100 calories—and that's before adding any booze. Plus, a typical bar-bought cocktail pour is usually closer to 8 or 12 ounces of liquid, much more than recommended serving size. A standard drink has 1.5 ounces of liquor, and tequila has about 104 calories per serving. Blending up a cocktail of epic proportion could run you about 300 calories—or more. The mix also delivers 22 grams of sugar per serving—enough to spike your glucose levels.

A 12-ounce can of traditional American lager holds 153 calories, which is half as much as an 8-ounce margarita. Don't be deceived though—beer goes down pretty quickly, especially on a warm summer day, and the calories can add up faster than you might think. Beer is the more calorie-conscious choice, but it's best to stick to moderate drinking—one 12-ounce can for women and two for men—and alternate between nonalcoholic beverages, like water or zero-calorie seltzer flavored with a squeeze of citrus fruit. 7 / 7

Berry trifle vs. frozen fruit pops

Dessert doesn't have to be unhealthy, and no, you don't just have to stick to fruit salad, either. Store-bought fruity ice pops are refreshing, and some brands contain fewer than 100 calories. Although much of the sweetness in fruit-based pops is natural, there's likely some added sugar lurking on your stick, too. To avoid these unhealthy additives, try whipping up your own batch by pureeing your favorite seasonal fruit. Mix in pieces of whole fruit or plain, nonfat Greek yogurt and freeze in molds.

Not all fruity desserts are healthy. Mixed berry trifle is a layered dish that typically includes a combination of berries—like blueberries, raspberries and strawberries—whipped cream and soft cookies or cake. The dessert may see light and airy, but some recipes contain more than 500 calories per serving, not to mention upwards of 40 grams of sugar.

Stick with frozen fruit bars—homemade or healthy pre-packaged buys. You can even add a small drizzle of melted dark chocolate.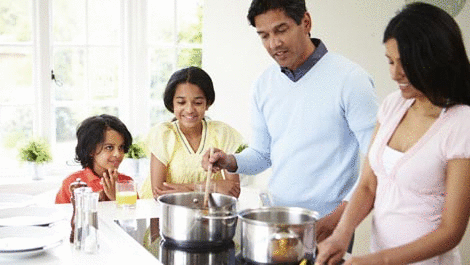 Do you want to cook healthier? With some simple tweaks, you can lighten up regular recipes for brownies, casseroles, and other tasty treats. Plan healthy meals for breakfast, lunch and dinner by learning about healthy food substit...
utions. For instance, you can sprinkle powdered sugar on cakes instead of using frosting. Reduce fat and calories in baked goods by cutting the fat ingredient such as butter or margarine by one-half and substituting a moist ingredient like applesauce, fat-free sour cream or orange juice. Read on to learn more tips about healthy foods and in no time you will be cooking healthy recipes for you and your family.
More