8 Easy Dinners Under 600 Calories
Take dinner from drab to fab with these healthy and delicious meals.
Medically reviewed in March 2022
1 / 9
Stressed about what to cook for dinner this week? Whether you have no dietary restrictions, are vegetarian or avoid dairy, we've got you covered with these simple, flavorful meals that are all less than 600 calories. Each dinner serves one, but you can always double or triple the ingredients to feed more. 2 / 9
Classic Italian Dinner
Spaghetti and meatballs with arugula salad is calorie-smart and packed with disease-fighting nutrients.
Make it:
2 oz lean meatballs
1 cup whole-wheat spaghetti
½ cup marinara sauce
1 cup arugula
5 cherry tomatoes
¼ cup cucumber, chopped
2 tbsp oil-and-vinegar dressing
Make salad with fresh veggies. Serve with pasta.
Nutritional Info:
Calories 491; fat 21g; protein 22g; carbs 61g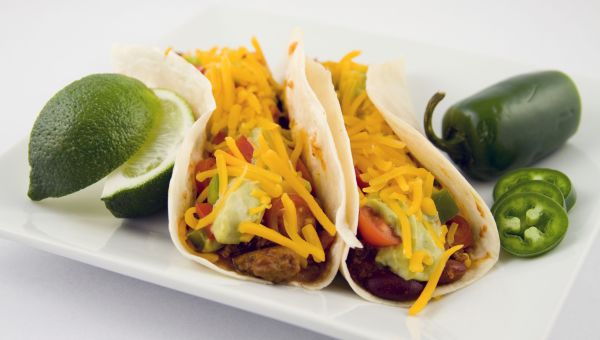 3 / 9
Quick, Easy Mexican Meal
These ground beef soft tacos are filled with muscle-building protein and heart-healthy avocado and salsa.
Make it:
5 oz 95% extra lean ground beef
2 whole-wheat, lower-carb flour tortillas
⅓ avocado
¼ cup salsa
¼ cup reduced-fat shredded cheddar
½ cup romaine lettuce
Brown the beef, spoon into tortillas and top with the last 4 ingredients.
Nutritional Info:
Calories 575; fat 25g; protein 53g; carbs 34g 4 / 9
Zesty Quinoa Salad
This delicious Greek-inspired quinoa salad with lemon vinaigrette is both vegetarian and gluten-free. Quinoa is a healthy, high-protein whole grain that cooks like rice.
Toss together:
¾ cup cooked quinoa
1 tbsp red onions, sliced
½ cup tomatoes, chopped
½ cup cucumbers, chopped
5 Greek olives (such as kalamata)
¼ cup reduced-fat feta cheese
1 tbsp olive oil
1 tbsp lemon juice
Nutritional Info:
Calories 412; fat 25g; protein 14g; carbs 38g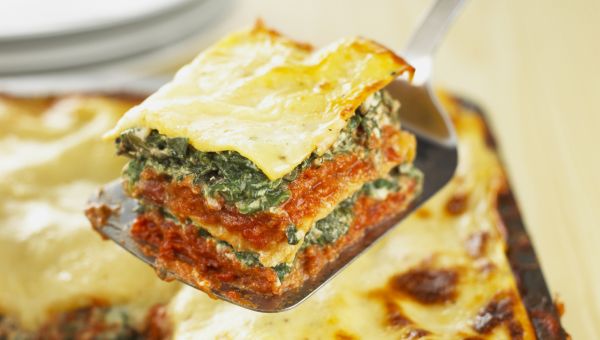 5 / 9
Guilt-Free Lasagna
Look for veggie lasagna at the store – and read the nutrition label to be sure it's well under 500 calories per serving. That way you can enjoy vegetable lasagna with Caesar salad, guilt-free!
Make it:
1 cup vegetable lasagna
1 cup baby romaine
2 tbsp shredded Parmesan cheese
¼ cup seasoned croutons
2 tbsp light Caesar dressing
Prepare vegetable lasagna according to package instructions. Serve with side salad.
Nutritional Info:
Calories 496; fat 27g; protein 19g; carbs 45g 6 / 9
Simple Asian Stir-Fry
This tasty tofu, vegetable and cashew stir-fry has three servings of heart-healthy veggies!
Make it:
¼ block firm tofu
1 cup cooked soba noodles
½ cup each: steamed broccoli, snow peas and carrots
3 tbsp cashews
2 tbsp store-bought stir-fry sauce
Pan-fry firm tofu with sauce. Toss with noodles, vegetables and cashews.
Nutritional Info
Calories 593; fat 20g; protein 31g; carbs 76g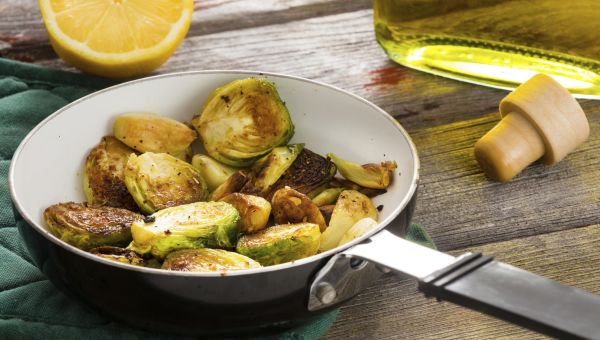 7 / 9
Back-to-Basics Dinner
Roasted chicken with Brussels sprouts and baked sweet potato is fast, filling and so healthy with plenty of protein, fiber and vitamin C.
Make it:
5 oz roasted, skinless chicken breast
1 small sweet potato
1 cup Brussels sprouts
2 tsp extra virgin olive oil
Microwave sweet potato for around eight minutes while cooking sprouts on stove with olive oil. Serve with chicken.
Nutritional Info:
Calories 405; fat 14g; protein 48g; carbs 20g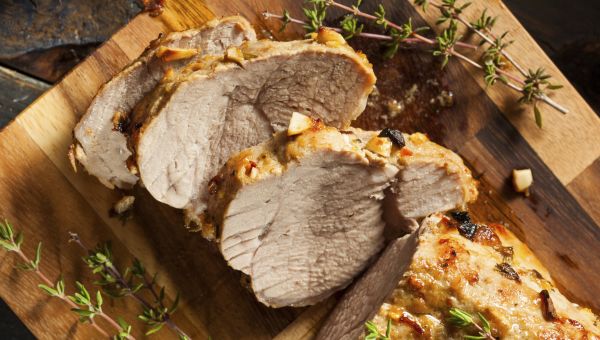 8 / 9
5-Ingredient Pork Tenderloin
Roasted pork tenderloin and root vegetables is special occasion-worthy! Plus the savory veggies are rich in cancer-fighting antioxidants.
Make it:
6 oz roasted pork tenderloin
½ cup roasted carrots
½ cup roasted parsnips
½ cup roasted beets
1 tbsp extra virgin olive oil
Prepare pork according to package instructions. Roast veggies with oil at 450 degrees for around 30 minutes or until tender.
Nutritional Info:
Calories 504; fat 22g; protein 51g; carbs 25g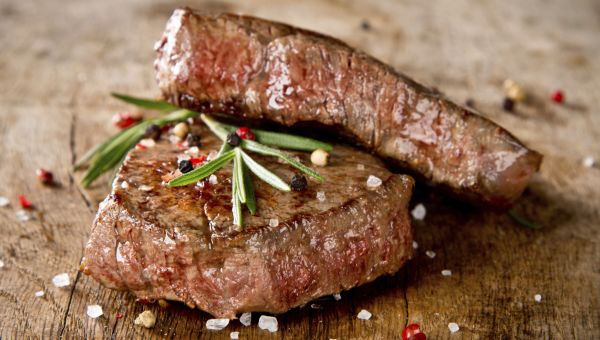 9 / 9
Date-Night Dinner
No need to go to a fancy steakhouse: This filet mignon with baked potato and steamed broccoli is less expensive and healthier.
Make it:
6 oz lean, broiled beef tenderloin
1 medium baked red potato with skin
1 cup steamed broccoli
2 tsp butter
Prepare beef according to package instructions and steam broccoli. Bake potato at 425 degrees for 45 minutes and top with butter.
Nutritional Info:
Calories 580; fat 20g; protein 56g; carbs 45g Replay Slideshow