Packed with fruits and veggies, you won't even be able to tell these are alcohol-free.
1 / 8
Whether you're looking to cut back on calories, amp up your nutrition or reduce your alcohol intake, mocktails—alcohol-free drinks designed to mimic a traditional cocktail—can serve as a refreshing alternative to flavored seltzer. In fact, according to one survey, mocktails are predicted to be one of the leading trends in non-alcoholic beverages on restaurant menus in 2018. And, even better—these drinks can be made in your own kitchen in just minutes. With so much fresh produce involved, you're likely to reap some nutritional benefits, too, though it's important to remember that because you're not consuming cups of whole fruits and veggies, the nutrients are limited.
So, the next time you or your guests want to sip on something sparkling or sweet, tap into your inner bartender and indulge with a good-for-you beverage so delicious you'll forget it doesn't have booze.
Medically reviewed in February 2020.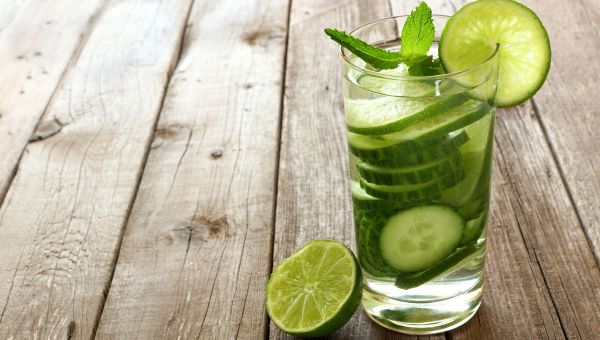 2 / 8

Cucumber-Lime Spritzer

"When I want a fizzy drink with a major burst of favor—and few calories—I whip up this sparkling mocktail," says Katherine Brooking, MS, RD, co-founder of Appetite for Health. "It's inexpensive, perfect any time of the year and you will get a boost of vitamin C from the fresh limes." Also, cucumbers have been shown to have antioxidant and anti-inflammatory properties.

Ingredients:
3 12-ounce cans of club soda
4 limes
1 cucumber
Directions:
Add the juice of 4 limes to the 3 cans of club soda.
Add a thick shaving of cucumber to each drink.
Makes 4 servings 3 / 8

Special-Tea Sangria

"Sangria can become your new 'special-tea' drink by using an herbal tea and a bounty of cut fruit," says Bonnie Taub-Dix, RDN, creator of BetterThanDieting.com and author of Read It Before You Eat It: Taking You From Label to Table. "Not only will you have the refreshing hydration from the herbal tea, but you'll also have the naturally sweet array of flavors from the fruit." While you can toss in any of your favorite fruits, Taub-Dix opts for:
Mangoes for potassium
Blueberries for potassium, folate, vitamin C and vitamin A
Apples, a fruit that contains compounds that may prevent chronic diseases
Watermelon since it's packed with vitamins A, C and potassium along with lycopene, which has been identified as a possible anticancer agent
"And of course, the antioxidants in pomegranate juice may help protect cells from damage and reduce inflammation," she adds.
Ingredients:
4 tea bags, passion tea
Slices of fruit, either fresh or frozen
Directions:
Boil water and use 4 tea bags per pitcher.
Once the tea cools, add in fruit and a splash of pomegranate juice.
Makes 4 servings 4 / 8

Veg-Out

"You can truly veg-out with a mocktail made with a base of vegetable juice," says Taub-Dix. "Although smoothies and juice bars have become hot, there's no need to put out a lot of green to get some benefits of green veggies." She emphasizes that this vegetable-based beverage contains a variety fruits and veggies, including tomato, carrot, romaine lettuce, beet, parsley, watercress and spinach. "Then jazz it up by adding a few drops of hot sauce, a stalk of celery, a carrot stick and some chopped cucumber to add a little kick and to boost fiber content even further," she suggests.

Ingredients:
1 can vegetable juice
1 stalk of celery
1 carrot stick
1 chopped cucumber
2 to 3 drops of hot sauce
Directions:
Pour vegetable juice into a glass.
Add in hot sauce, the celery stalk, carrot stick and chopped cucumber.
Makes 1 serving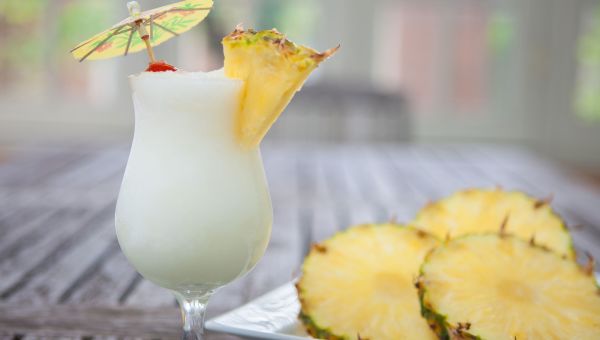 5 / 8

Piña Colada

"Some people may think of this as a seasonal drink—we're all wishing for summer right about now—but the flavors instantly transport you to a serene beach in the Caribbean," says Joy Bauer, MS, RDN, health and nutrition expert for NBC's TODAY Show, best-selling author of From Junk Food to Joy Food and founder of Nourish Snacks. "You're not missing anything by omitting the rum—just be sure to include the fancy umbrella for the full experience," she says. "And unlike the traditional version, there is not a drop of added sugar in mine!"

Ingredients:
1 1/2 cups frozen pineapple chunks
3/4 cup canned light coconut milk*
1 to 2 drops coconut extract
3 to 5 ice cubes
2 tablespoons shredded, unsweetened coconut (optional)
2 wedges fresh pineapple, for garnish
*Because canned coconut milk tends to separate, make sure to shake the can well before you open it.
Directions:
Add all the ingredients (except pineapple wedges) to a blender and process until smooth and creamy. To make these even more coco-nutty and delicious, add the optional 2 tablespoons of shredded coconut before blending.
Pour the pina coladas into glasses and garnish each with a pineapple wedge, if desired.
Makes 2 servings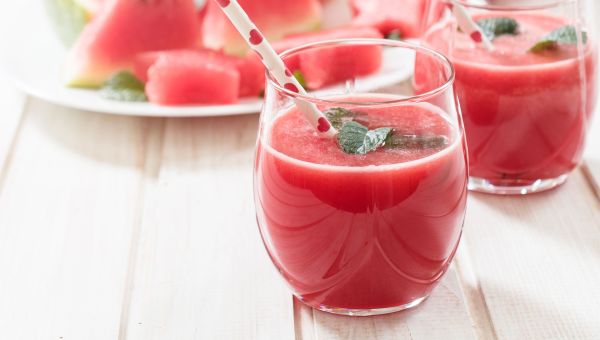 6 / 8

Watermelon Mocktail

When you want to indulge, this alcohol-free sweet treat is the perfect option. "The drink is made with fresh watermelon puree (think: vitamins C, A, potassium and more!) and other budget-friendly ingredients, like fresh orange and ginger ale," says Brooking. "I serve this mocktail at parties for both adults and kids. Also, keep in mind that watermelon is not just for summer—it's available year-round."

Ingredients
1 cup watermelon puree
1 teaspoon grenadine syrup
1 serving juice from a fresh orange
1 tablespoon granulated sugar
2 liters of ginger ale
2 cups ice cubes
Directions:
Blend ingredients in a large beverage container and chill. Serve over ice.
Makes 36 servings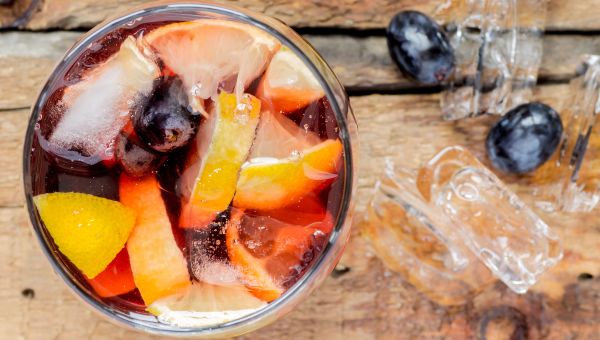 7 / 8

Concord Grape Virgin Sangria

"The star ingredient in this recipe is 100 percent grape juice made with Concord grapes, says Brooking. "Several published research studies show 100 percent grape juice delivers many of the same polyphenols (natural plant nutrients) and heart-health benefits as red wine. Plus, this drink is delicious, easy to make and perfect for any occasion."

Ingredients:
4 cups 100% grape juice made with Concord grapes
1/2 cup orange juice
1 lemon, sliced
1 orange, sliced
1 apple, sliced
Directions:
Add all ingredients to a large pitcher.
Stir to combine and place in refrigerator to infuse flavors. Chill for at least 1 hour. Serve over ice, if desired.
Makes 4 servings 8 / 8

Berkshire Iced Tea

Bauer explains that this healthier version of the Long Island Iced Tea was created in the Berkshires—"My most favorite place in the world!"—which gives this mocktail its name. "There's no added sugar in this drink, but you still get plenty of flavor," she continues. "It couldn't be any simpler, it's totally delish and it elevates your glass beyond plain old water!" She feels that this beverage is ideal for a celebration. "Let's just say it's "clink-able!" adds Bauer.

Ingredients:
1 lemon-ginger tea bag
1/4 cup 100% grapefruit juice
1 grapefruit wedge
1 sprig mint
Directions:
Place the tea bag in 1 cup of boiling water and steep for 5 minutes.
Remove tea bag and allow tea to cool in fridge. Once cool, mix in the grapefruit juice. Stir and add ice.
Garnish with grapefruit wedge and mint.
Makes 1 serving
Continue Learning about Non-Alcoholic Beverages & Health