Healthy Ways to Eat the 15 Cleanest Produce Picks
Delicious and easy recipes using the Clean 15, fruits and veggies with little to no pesticides.
Updated on September 6, 2022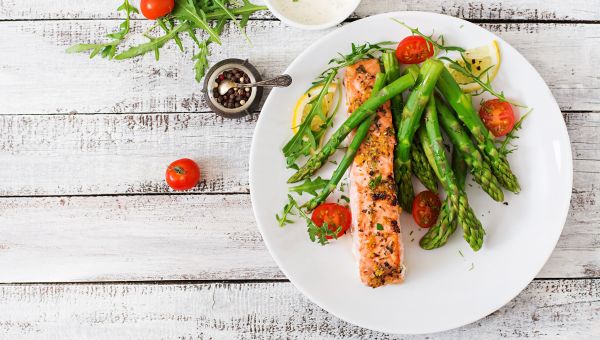 1 / 7
Each year, the Environmental Working Group (EWG) selects the Clean 15, or the 15 fruits and veggies with the least amount of pesticide residue. These foods are flavorful on their own, but mixed with other wholesome ingredients, they taste even better.
Before sinking your teeth into the selections on the newest list, give them a good wash, says Frank Chae, MD, a bariatric surgeon with Sky Ridge Medical Center in Lone Tree, Colorado. To remove dirt and bacteria, he recommends placing your food in a colander and rinsing with water for three to five minutes.
Research suggests soaking your produce in a mixture of 2 teaspoons baking soda and 1 liter of water may be even more effective at removing pesticide residue from the surface of your food. Submerge fruits and veggies in the solution for 12 to 15 minutes, rinse, and enjoy.
Once your produce is prepped, read on to learn how you can enjoy these foods throughout the day. 2 / 7
Creamy Guacamole Dip
Love dips? This one is perfect for dunking carrot and cucumber slices, it's delicious scooped onto a turkey burger or eggs, and it's a great way to incorporate three of this year's cleanest foods—avocado, corn, and onion.
In a mixing bowl, mash one ripe avocado with:
One-quarter of an onion, diced
One clove of garlic, minced
1/4 cup of sweet corn
One tomato, diced and seeded
Finish the dip with a generous squeeze of lime juice and a sprinkle of herbs and spices, such as fresh cilantro, salt, pepper, ground cumin, and cayenne pepper. If you like a bit of a kick, add some diced jalapeno.
One of this dip's ingredients—tomatoes—is on the Dirty Dozen list, the EWG's selection of produce with the most pesticide residue. These fruits are still safe for eating—just wash them thoroughly. You can also try to buy organic, since organic produce is typically grown without the use of most synthetic pesticides.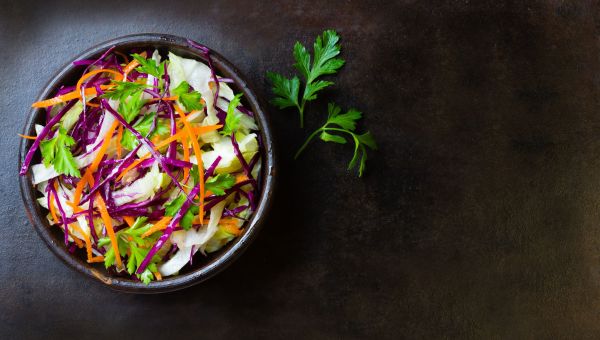 3 / 7
Sweet and Spicy Slaw
A crunchy slaw is one way to eat your veggies even if you're not a big fan of leafy salads. Instead of using mayo to go with the cabbage base—another Clean 15 food—Dr. Chae recommends adding lower-fat and lower-calorie ingredients, such as vinegar, pepper, and nonfat plain Greek yogurt.
Try this: Combine one head of shredded cabbage with two washed, peeled, and grated carrots and half of a white onion, sliced into thin strips. Mix in 1/2 cup of nonfat plain Greek yogurt, 2 tablespoons of apple cider vinegar, and generous sprinkles of salt, black pepper, and cayenne pepper.
Top your slaw with a cup of grapefruit segments or pineapple slices—another clean fruit option. This recipe is packed with vitamin K for blood clotting and building bones and vitamin C, which is essential for maintaining strong bones, teeth, and gums.
This simple recipes makes four servings, so there's plenty to go around.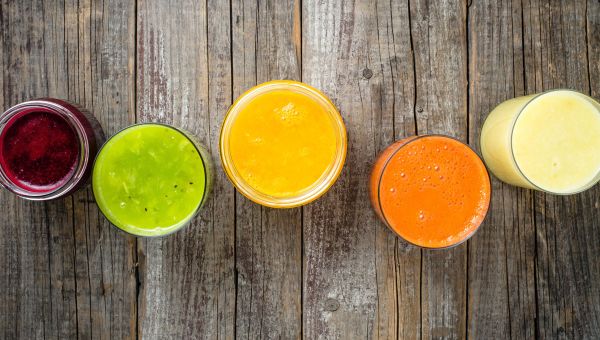 4 / 7
Nutrient-Rich Smoothies
Smoothies are quick to make, easy to drink, and oh-so-tasty. Fortunately, the Clean 15 is full of smoothie-friendly ingredients, like papaya, avocado, and pineapple.
Pack your blender with pineapple, papaya, and kiwi for a tropical, vitamin C-packed smoothie with just over 200 calories. Slice a 1/2 cup of each and blend with a handful of ice and 1 cup of unsweetened almond milk.
Another option: You can load your smoothie with veggies for an extra punch of nutrients such as folate, which promotes wound healing and DNA formation. Enjoy a green smoothie by blending half an avocado and 1 cup of unsweetened almond milk with 1/2 cup of each: cauliflower, pineapple, and cantaloupe. Coming in under 300 calories, this drink is a tasty, outside-the-box alternative to your typical breakfast. 5 / 7
Grilled Fruit Salad
Fruits are sweet on their own thanks to their natural sugar. But what makes nature's treats even sweeter? Tossing them on the grill and topping them with a yogurt dressing.
Skewer 1 cup of diced papaya, pineapple, mango, cantaloupe, and honeydew, and place them on a heated grill. Grill both sides. When your fruit begins to caramelize and deep grill marks appear, you're ready to eat. Well, almost.
Slide the grilled fruit off the skewers and top with a yogurt dressing—1/2 cup of nonfat plain Greek yogurt, 1 tablespoon of lemon juice, and a drizzle of honey. One cup of this sweet salad contains around 100 calories.
If savory sides are more your speed, toss corn or asparagus on the grill and whip up a warm salad. 6 / 7
Healthy Veggie Tacos
Skip the ground beef and load your crispy taco shells with veggies, instead. Try grilling or sauteing mushrooms and red onions—both Clean 15 picks—with your favorite taco seasonings. When your veggies are tender, add a heaping handful of sweet corn kernels to the mix. Load everything onto a bed of mixed greens, over a serving of brown rice, or layer it inside a few taco shells.
Be mindful of your additions. Toppings like sour cream and full-fat cheese can quickly add on calories. Fresh salsa, however, is a fresh, zingy, low-calorie condiment, and avocado slices can provide heart-healthy monounsaturated fat.
"I think portion control is key," says Dr. Chae. "It's true, these are great foods and it's really difficult to get obese from eating them, but if you put unhealthy ingredients on top of them, it almost defeats the purpose of eating well." 7 / 7
Nourishing Buddha Bowls
These photo-worthy creations are a great way to use up leftover veggies. Start by adding a 1/2 cup serving of cooked brown rice to a bowl with a cup of washed and chopped greens. Make sure your greens have been washed thoroughly, since popular choices like spinach and kale are on the EWG's Dirty Dozen list.
Drizzle 1 cup of your favorite veggies, like asparagus or mushrooms, with olive oil and season well. Give your bowl a Mediterranean kick by adding parsley, basil, oregano, thyme, and rosemary. Then, place the produce on a baking sheet and roast them until they're tender.
For a dose of plant-based protein, add a 1/4 cup of chickpeas. For healthy fats? Pile on one-quarter of an avocado. Arrange your ingredients and dig in. Replay Slideshow
Slideshow sources
Environmental Working Guide. Clean Fifteen: EWG's 2022 Shopper's Guide to Pesticides in Produce. Accessed September 1, 2022.
Environmental Working Guide. Dirty Dozen: EWG's 2022 Shopper's Guide to Pesticides in Produce. Accessed September 1, 2022.
Yang T, Doherty J, et al. Effectiveness of Commercial and Homemade Washing Agents in Removing Pesticide Residues on and in Apples. J. Agric. Food Chem. 2017, 65, 44, 9744–9752.
Mayo Clinic. Organic foods: Are they safer? More nutritious? April 22, 2022.
Harvard TH Chan School of Public Health. Vitamin K. Accessed September 6, 2022.
National Health Service (UK). Vitamin C. Last reviewed August 3, 2020.
NIH Office of Dietary Supplements. Folate. Updated March 22, 2021.
Harvard TH Chan School of Public Health. Avocados. Accessed September 6, 2022.