Loaded with flavor and packed with nutrition—you won't even miss the leafy greens.
1 / 7
Your salad should be more than a bowl of leafy greens. In fact, a healthy and filling salad doesn't have to include lettuce at all.
Let's face it, the salad mix-ins, like crumbled cheese, sliced fruit and nuts, are often the best part of the meal. Toss together your favorite fruits, veggies, whole grains (and more) to create tasty, satisfying and 100 percent lettuce-free meals.
Worried about missing out on necessary nutrients? Don't be! Tomatoes, cucumbers, quinoa and avocado are loaded with the essentials.
Medically reviewed in July 2018. 2 / 7

Greek goddess salad

Get a taste of the Mediterranean in the comfort of your own home. This tangy salad combines a few ingredients with whole lot of flavor. Plus, it's low in calories!

Start with a whole cucumber, which contains just 45 calories, for a crunchy base. One cup of chopped tomatoes contains 30 calories, and is loaded with vitamins A and C, which help boost your immune system. Toss in some sliced red onion for some extra flavor and fiber.

To create the authentic flavor of a Greek salad, sprinkle in a tablespoon of crumbled feta cheese and a small handful of Kalamata olives—just don't overdo it. An ounce of each contains 74 and 84 calories, respectively. A squeeze of lemon and your favorite spices are all you need to top it off. 3 / 7

Tomato and avocado salad

Enjoy the flavors of a classic deli sandwich, layered with bacon, lettuce, avocado and tomato, with a fraction of the sodium, fat and calories.

Tomatoes are packed with vitamins A and C, which promote a healthy immune system and potassium, necessary for proper nerve and muscle function. Avocado contains fiber and a dose of vitamin K, an important ingredient in healthy blood clotting. This green fruit also contains healthy fats, which can help reduce bad cholesterol levels and lower your heart disease risk. Avocados are high in calories, 322 per fruit, so slice no more than half into your bowl.

Sprinkle in chopped scallions and add a dash of balsamic vinaigrette before giving your salad a good stir. Be mindful of the dressing you choose—the wrong choice could sabotage an otherwise healthy salad. 4 / 7

Watermelon and feta summer salad

Who said salads had to be savory? This light and refreshing recipe can be enjoyed at snack time or topped with a few grilled shrimp and eaten as a complete meal.

The star of this salad is juicy, pink watermelon, which contains just 50 calories per cup. The fruit is loaded with hydration, and provides vitamins A and C, which play a role in heart, lung and kidney function, and collagen production.

Add a pinch of fresh mint, a tablespoon of crumbled feta and a squeeze tangy lime juice—then dig in! 5 / 7

Crunchy beet salad

This salad comes together with almost no effort—and tastes great!

Feel free to boil your own beets, but the canned kind work just as well. Just give them a good rinse to get rid of any excess sodium. A cup of beets contains only 60 calories, but also delivers fiber, a bit of protein and potassium, which promotes healthy muscle and nerve function and a regular heartbeat.

Layer your beets with tangerine slices, a tablespoon of goat cheese, a few walnut halves and a drizzle of balsamic vinegar. One small tangerine contains less than 50 calories, but don't overdo the other ingredients. Walnuts contain heart-healthy fats, but calories in nuts add up fast. The same is true for creamy goat cheese.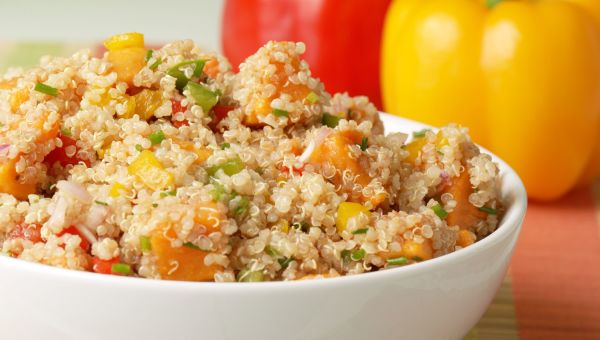 6 / 7

Colorful vegetable and quinoa salad

Shake up your salad routine by filling your bowl with a filling and flavorful base of 100 percent whole grains, like quinoa.

Measure out one cooked cup of quinoa, loaded with protein, fiber and manganese. Next, chop up and toss in your favorite veggies and beans.

Red onions, black beans and bell peppers make a great addition to this dish. Black beans provide a ton of fiber, which promotes digestive regularity and iron, responsible for carrying oxygen throughout the body. Bell peppers and onions both contain loads of vitamin C, essential for the growth and repair of tissues throughout the body, and they're low in calories. Top your mixture with a drizzle of extra virgin olive oil.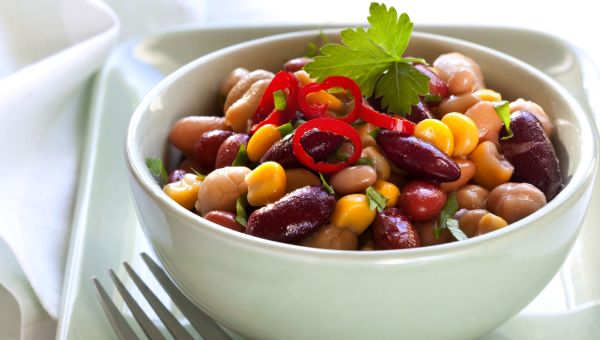 7 / 7

Fiesta bean salad

Beans contain protein, fiber and iron, without all of the fat red meat contains. Toss your favorite legumes with a bit of diced onion, a splash of olive oil and spices.

A half-cup serving of black, garbanzo and red kidney beans offer about seven grams of protein and more than 10 percent of the daily recommended amount of iron.

Spices and herbs add a ton of flavor, without any extra calories, sodium and bad fats some other salad ingredients contain. Dill, thyme and oregano pair well with beans, but don't be afraid to make this dish your own!
Continue Learning about Recipes for Healthy Cooking