Beans are rich in minerals, B vitamins, fiber and protein-with as much in a cooked cup of beans as in 4 oz. of meat. Any type of bean, canned or dry is a smart nutritious food to incorporate into your diet, and just remember to drain and rinse canned beans which actually lowers its sodium content.
Beans, a mainstay in most diets of the world, are second only to grains in supplying calories and protein to the world's population. Compared to grains, they supply about the same number of total calories but usually provide two to four times as much protein and are a richer source of the soluble fiber that lowers cholesterol and stabilizes blood sugar levels. While we do not recommend using canned vegetables or fruit, canned beans retain their fiber content and anticancer flavonoids. Plus, given the long preparation time for cooking beans, canned beans are extremely quick and convenient. A serving size for beans is 1/2 cup.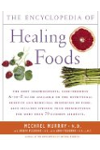 More About this Book
Encyclopedia of Healing Foods
From the bestselling authors of The Encyclopedia of Natural Medicine, the most comprehensive and practical guide available to the nutritional benefits and medicinal properties of virtually everything...
Beans are by far the best plant source of protein. Beans or legumes are edible seeds enclosed in pods. In addition to protein, legumes are loaded with energy giving complex carbohydrates. They are also full of B vitamins, zinc, potassium, magnesium, calcium, and iron. Beans have the highest protein content of any plant food. The protein comes in a package that is low in calories, cholesterol free, virtually fat free, and generally high in fiber. Though the protein is incomplete, this deficiency can be overcome by serving them with rice or other grains, seeds or nuts, or a small amount animal protein such as poultry, fish, egg white, or low fat yogurt.
Since beans are high-nutrient, high-fiber, and low-calorie, you can eat them in virtually unlimited quantities. Beans add texture to soups and other vegetable dishes, and leave you feeling full and satisfied. Eating beans regularly helps to prevent food cravings, contributing to maintaining a healthy weight. Beans are a rich source of soluble fiber, which helps to lower cholesterol. The high fiber and low glycemic index of beans make them an ideal food for diabetes prevention and reversal. Bean consumption is also associated with lower blood pressure. Plus, all beans have anti-cancer properties, and eating beans regularly dramatically lowers colon cancer risk. Beans are unique because of their very high levels of fiber and resistant starch -- carbohydrates that are not broken down by human digestive enzymes. This means that fiber and resistant starch in beans reduce total the number of calories we can absorb from beans -- beans are a great weight-loss food. Also, our gut bacteria convert the resistant starch from beans into compounds that protect against colon cancer.
Continue Learning about Health Value Of Foods