In my own practice, here are the top five meds I'm likely to prescribe on any given day:
Amoxicillin. It's a common antibiotic for ear infections and strep throat, usually given to kids in a bubblegum-pink liquid form. You'll find it in almost every parent's fridge at some point during their children's growing-up years. Fortunately, it tastes pretty good, so kids usually take it without a problem.
Zithromax (azithromycin). This antibiotic (also known as "Z-Pack") is used for bronchitis and pneumonia; it's also the go‑to option for kids who are allergic to penicillin.
Zantac (ranitidine). This liquid prescription version of the adult heartburn medicine is used for babies with severe spitting-up problems (gastroesophageal reflux).
Albuterol. It's a bronchodilator, meaning it relieves wheezing or asthma by opening up the airways. I usually prescribe it as an inhaler or in a nebulizer, though liquid forms and tablets are available too.
Ocuflox (ofloxacin ophthalmic). These are drops used to treat pinkeye (conjunctivitis). It seems like every kid gets pinkeye at some point or another and then shares it with their best buddies, and probably with you, too!
From The Smart Parent's Guide: Getting Your Kids Through Checkups, Illnesses, and Accidents by Jennifer Trachtenberg.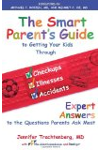 Continue Learning about Healthcare Basics