The term "hard prostate" indicates a firmness of the prostate, which may indicate prostate cancer.
A normal prostate has a smooth, soft texture. Cancers in the prostate will make nodules, or "hard" areas, on the prostate's surface. Your doctor may feel them during a rectal exam.
On digital rectal examination (DRE), the normal prostate feels firm (similar to the tip of the nose). A "hard prostate" (like a rock), may indicate the presence of cancer. In addition to the DRE, a blood test called PSA (prostate-specific antigen) can help diagnose prostate cancer at an earlier stage. If the DRE or PSA test is suspicious, a prostate biopsy is usually recommended.
Continue Learning about Prostate Cancer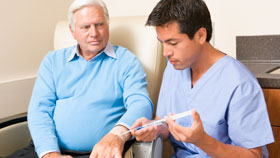 One of the most common cancers among men, prostate cancer can be very aggressive and spread to your bones and other organs. Cancer usually develops very slowly in the prostate gland, which produces fluid that helps create a man's ...
semen. If found early, when the cancer is confined only to the gland, prostate cancer is very treatable.
More