If you'd like to stimulate your Grafenberg spot (G-spot), have your partner insert his index finger into your vagina, turn it so that it's facing your front vaginal wall, and wiggle it in a come hither gesture. He can then massage the area above your pelvic bone and tap the inside of your vaginal wall.

Some women experience discomfort when their G-spot is stimulated, and even feel a sensation akin to the need to urinate. This sensation is normal. To ease your mind, however, you can just pee before experimenting with this form of stimulation. And if there is a clear fluid that leaks out upon orgasm, congratulations! You've just experienced female ejaculation.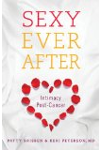 More About this Book
Sexy Ever After: Intimacy Post-Cancer
Recent studies show that 40-100 percent of men and women who have been treated for cancer have experienced some level of sexual dysfunction. Sexy Ever After: Intimacy Post-Cancer will help you...
Continue Learning about G-Spot Stimulation