The buildup required for orgasm stimulated by the G-spot is, for most women, long and slow and intense. Don't worry about taking "too long" -- the longer it takes, the bigger the orgasm. Stop if it hurts. Learning about the G-spot and what it can do for you is recreational. You can have a perfectly satisfactory and happy sex life without ever doing anything with it -- and a lot of women do. Your decision to learn more about this intense new kind of stimulation is like a daily jogger deciding to run her first mini-marathon. It takes something you already know and love to a profound new level -- but it is a hobby, something you do for fun and pleasure, not because you have to. G-spot stimulation isn't for everyone. If it hurts, stop.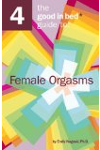 More About this Book
The Good in Bed Guide to Female Orgasms
Want to learn how to achieve 487 different kinds of orgasms?If so, you're reading the wrong guidebook. Despite what many in the media would have you believe, there's no such thing as a rainbow...
Continue Learning about G-Spot Stimulation