What kind of face masks are used for different football positions?
Different positions in football have different kinds of football helmet face masks in order to provide the necessary balance of protection and visibility. Depending on the position, the style for the football face masks are:
R—Reinforced
DW—Double-wire configuration
SW—Single-wire configuration
UB—U-Bar attached
SK—Skill-positions player
Some face masks are designed to only protect the mouth, while others protect the mouth, eyes, nose, and jaw; these mostly depend on football positions. Based on this, generally these acronyms are used to indicate face mask differences to buyers:
OPO—Oral protection only
JOP—Jaw and oral protection
NOPO—Nose and oral protection only
NJOP—Nose, jaw, and oral protection
EGOP—Eye glass and oral protection
Linemen tend to have a double-wire face mask to better prevent objects, mostly body parts, from entering the face area. This protects the nose as well as the mouth and jaw. They also have a vertical bar to add further protection. Because these positions are very aggressive and impactful, protection is the main goal.
Quarterback, running back, wide receivers, and defensive backs have face masks that stress visibility more than protection. Thus, there are no vertical wires and the horizontal wires are brought down to widen the visibility on the sides of the helmet.
Kickers and punters rarely have much direct contact with other players. Their face masks are the simplest, with a couple of single wires that also stress visibility. (This answer provided for NATA by the Saint Louis University Athletic Training Education Program.)
Continue Learning about Football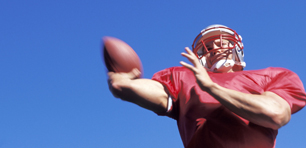 Football is a team sport that involves cardio, strength training, and muscular endurance. To prevent football injuries make sure you have the right gear to protect yourself from concussions, muscle sprains and broken bones.