Fitness is a measurable state or condition partially determined by genetics. Health is also a condition but is not as easily measured or defined as fitness. Health is not merely the presence or absence of disease; rather, it's a complete state of physical, mental, and social well-being, a complex of factors that represents all levels of vitality from the highest to the lowest (or death, to put it bluntly).
On the other hand, the World Health Organization (WHO) defines fitness as "the ability to perform work satisfactorily," thus making the definition of who is fit and who isn't somewhat dependent on personal inclination and social context. One's ability to perform work satisfactorily depends on the type of work involved and on how one defines "satisfactorily."
To a competitive runner, for example, fitness is measured in faster times and longer distances; fitness means fit or conditioned for beating the other guy, the clock, or one's previous best. To the Olympic athlete, fitness is ultimately measured in terms of gold medals and world records. To the plodder, fitness is measured perhaps in simply getting through the next mile.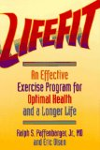 Health and fitness really go hand in hand, but are not quite the same thing. Health describes the state of an entire body and all of it's systems. Is the body functioning the way it ought to? Are there irregularities within one or more systems that do not allow for full, efficient functioning? Fitness also describes the state of the body, but focuses more specifically on the nervous system, the muscular system, and the skeletal system. Are the systems functioning properly? Are they working properly together? To be fit is to have an efficient heart muscle, one that recovers quickly after being taxed. It is also to have proper movement patterns, so that when you execute a movement, the correct muscles activate, and injury is averted. Fitness also takes into consideration the skeletal system. Are the joints moving the way they should? How is your posture? We must create fitness, by training the muscles to work in the correct patterns, by focusing on maintaining correct posture during movement, and by placing demands upon the muscles so that they grow stronger and more efficient. The effort we put toward fitness pays off by creating a greater state of overall health.
Fitness is a sub-category of health. Fitness involves cardio and strength training. In order to be fit you need to incorporate strength and cardio into your workouts. However, it is possible to be fit and not healthy. You could workout 5-6 times a week and smoke and eat a high fat diet. Fitness is measured in vanity terms whereas health is measured with cholestorol numbers, blood sugar levels, blood pressure levels, etc.
My recommendation is to work on being health by watching what you eat, watching your weight, and make sure you don't eat alot of salt to prevent hypertension. In doing so, you can then work on your fitness level by exercising.
Regarding fitness: let's just say someone can eat crap and still look fit because they are disciplined with their exercise regime.
Regarding health: someone can be very healthy and still struggle with their weight because they don't like to exercise or are exercising inefficiently.
Fitness and health can be viewed in many ways. Often time's people may describe good fitness as being healthy and active. Some differences between the two terms include but are not limited to the following. Fitness is a state or condition of being physically active. Fitness is a result of general nutrition and proper conditioning, and fitness is a state of general physical and mental well-being.
Health is a much broader term and will vary from individual to individual. People may describe themselves as healthy but that will depend on your description of what you feel is healthy. Having an average or below average body mass index (BMI) may classify you as being healthy. Keeping your body fat percentage below a certain number may also assist you in being healthy. Health can include being free from disease and injury. Again, health has a much broader outlook and can vary.
Essentially many differences are present between the two but plenty is open to discussion. Your main goal should be to keep high levels of fitness which should help result in a healthy lifestyle along with sound nutrition.
Fitness is the ability to perform specific tasks well. Fitness is often very specific to goals or tasks. The fitness needed to be an elite marathon runner is much different from the fitness needed to be an NFL linemen. Both are very good at their chosen sports but have much different bodies and abilities but both are very "fit." Health is the absence of disease both mentally as well as physically. Health means a person has good physical health, no injuries, diseases or issues, and good mental health and well being. An athlete can perform with injuries of have lots of mental issues such as depression or drug dependencies, and still be "fit" but not have health.

This is the question that is most important. Fitness and the industry of fitness are focused on weight loss and muscle tone. It's an industry founded on the physique of a person. However, health to me is defined as a state where all systems of the body function efficiently. Here's the thing: lots of people eat fairly well and exercise, yet they frequently are injured, have pain, struggle with weight, constipation, digesting food, mood fluctuations, and fatigue. What's missing is what keeps a body stable and efficient. Sadly, diet and exercise aren't just what keep your body stable or efficient. They are essential parts but there is a key factor missing in most people's fitness routines. We need to view a human body as more than just fat and muscle ratios. My view of fitness and health is about finding a way to live in a better state every single day. That means feeling happy, pain-free, and ready to make each day a great one.
Continue Learning about Fitness