The following is the first aid treatment for an impaled object:
Call for medical help.
Stabilize the impaled object to prevent any movement. Even a small amount of movement can cause serious internal damage. If required, stabilize with multiple dressings until secure.
To control bleeding, apply direct pressure around the wound.
Monitor and treat for shock if present.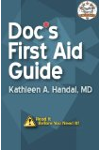 More About this Book
Doc's First Aid Guide: Read It Before You Need It
In a medical emergency, time is of the essence. "Doc's First Aid Guide" is an illustrated, first-aid pocket handbook designed to be used as a quick reference and includes the latest CPR guidelines....
A rescuer should always stabilize an impaled object in the position they find it. They should never remove it. (This answer provided for NATA by the Eastern Kentucky University Athletic Training Education Program.)
Continue Learning about First Aid For Wounds