Broken or un-inflated, balloons can choke or suffocate young children who try to swallow them.

More children have suffocated on non-inflated balloons and pieces of broken balloons than any other type of toy.
Many parents are surprised to find out that a leading cause of childhood death is choking from balloons. The danger lies in the balloon taking the shape of the child's windpipe or airway and not moving through as a solid object would. Children up through age 8 are at risk, so keep a close eye on those party balloons. Put uninflated or popped balloons far out of children's reach. You may want to avoid latex rubber balloons altogether and use mylar balloons instead -- they won't deflate or pop as easily as latex balloons, so they are less of a hazard.
From Good Kids, Bad Habits: The RealAge Guide to Raising Healthy Children by Jennifer Trachtenberg.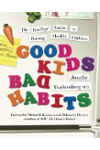 Continue Learning about First Aid For Choking