Omega-5, otherwise known as myristoleic acid, is less common in nature -- found primarily in the seed oil from plants in the Myristicaceae genus where nutmeg is the most well known; the oil is also extracted from saw palmetto. Myristoleic acid extracted from saw palmetto has been shown to effectively combat cancer cells in prostate and pancreatic cancers.

Additionally, omega-5 may play a key role in the inhibition of 5-lipoxygenase, a mediator of inflammation, thus, by acting in this anti-inflammatory capacity it helps to promote appropriate inflammation in the body. Food sources of omega-5, beyond extracting myristoleic acid from the aforementioned plants, include the fat of marine animals (wild Alaskan salmon), beavers, and bovines.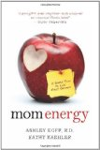 More About this Book
Mom Energy: A Simple Plan to Live Fully Charged
       From celebrated dietitian Ashley Koff and fitness trainer to the stars Kathy Kaehler comes Mom Energy, an exciting new way for moms to tap into their own natural and renewable sources of...
Continue Learning about Fats
At 9 calories per gram, fats can add up quickly in your diet, yet experts recommend that you get only 7% of your calorie intake from fat. Fats also affect your cholesterol, and there are both good and bad fats. The best kind of fa...
ts are called unsaturated fats, and can be found in oils like olive and canola oils, nuts and seeds. These fats can help your body get rid of cholesterol. Saturated fats often have had hydrogen added to them to make them more solid. Other saturated fats are found in cream, butter and meats. They can raise your blood cholesterol. Its wise to learn which is which and check nutrition labels to make proper choices.
More