Energy is actually stored in your liver and muscle cells and readily available as glycogen. We know this as carbohydrate energy. When carbohydrate energy is needed, glycogen is converted into glucose for use by the muscle cells. Another source of fuel for the body is protein, but is rarely a significant source of fuel. Protein only becomes a significant source of fuel during starvation, when amino acids are converted to glucose through a process called gluconeogenesis.
The average person has about 2,500 calories of carbohydrate reserves—stored mostly in liver and muscle—to use for all kinds of energy-needing functions, especially a need for immediate energy, like when you're trying to catch a bus or escape a charging rhino. An average person has about 112,000 calories stored in fat (that is, if you are at your ideal weight, you typically have about 14 pounds of fat).

A good point to remember: your body fat is not the enemy, unless you're carrying more than you need to. We need fat to function—it's an energy bank account that we can withdraw from. The trick, of course, is to make sure we don't let our banks open up branches on every single part of our bodies.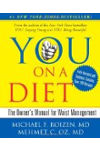 Continue Learning about Exercise For Weight Loss