The body is an energetic force -- it's dynamic and can be viewed as a collection of intricate energy equations. If one of those equations isn't balanced, the whole system starts to falter. Like a crack in a window that changes the climate of the entire house. And when you focus on balancing your energy equations and accelerating your energy levels naturally, everything else begins to fall into place. You'll lose unwanted weight. You'll boost your immune system and have fewer colds each year. You'll sleep like a baby at night. Your skin will glow and your wrinkles will go. You'll ignite your relationships (and sex life!). You'll enhance your productivity and ability to get things done. You'll know how to have that cake and eat it, too, without it sabotaging anything. You'll be able to manage stress better and cope with whatever life throws you (or takes away from you). You'll experience greater happiness and well-being. And you'll automatically find the motivation to keep moving forward with optimism and fortitude.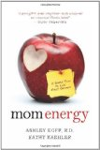 More About this Book
Mom Energy: A Simple Plan to Live Fully Charged
       From celebrated dietitian Ashley Koff and fitness trainer to the stars Kathy Kaehler comes Mom Energy, an exciting new way for moms to tap into their own natural and renewable sources of...
Continue Learning about Energy Boosters