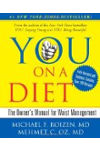 If you've made a mistake and gorged on a tub's worth of food, make your body work in your favor. Stay awake for a few hours and take a 30-minute walk to help your body with the breakdown of nutrients and so that it uses the food for energy, rather than storing it as fat. Once the calories are in your stomach, don't try to vomit it out, which can damage your stomach, burn you esophagus, and even discolor your teeth if you do it enough.
Don't berate yourself or scold yourself or convince yourself that you might as well drive off a cliff. You can correct and overcome your mistakes. And don't think you should abandon your diet just because you overate. Instead, carry out this contingency plan to help you cope with occasional mishaps and potential catastrophes:
Remind yourself that it's okay to stray occasionally, that you can take control of the situation and steer yourself back, and that the positive reinforcement and confidence that come with overcoming challenges will give you the mental strength of a tank.
Do a yoga pose or stretch. It will help you refocus, give you a few moments to take deep breaths, and remind you of your goals, but it will also make it harder to eat any more.
Keep in your fridge a container of baby carrots, celery, or any crisp vegetable of your choice, or a favorite apple type. Carrots and apples are perfect antistress foods because they satisfy cravings and give you something to crunch into at times you want to sink your teeth into your boss's neck.