7 Energy-Boosting Breakfasts Under 400 Calories
These no-fuss meals take minutes to make—and will power you through the morning.
Medically reviewed in May 2022
Updated on May 19, 2022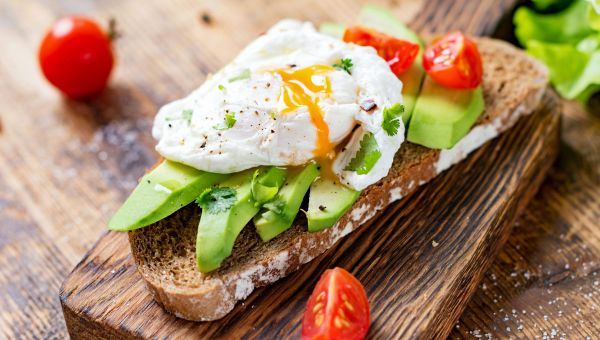 1 / 9
Eating a healthy breakfast can help jump-start your day, but sometimes fitting it into the morning rush can be tough. With a little bit of prep, though, it's possible to reap the benefits of a morning meal.
Research has linked eating a nutritious breakfast to lower risk factors for heart disease. Breaking the fast each morning may also help you manage your weight by increasing energy levels, reducing hunger, and promoting healthy food choices throughout the day.
The food you choose matters, of course, and having an unhealthy smorgasbord may not be conducive to your goals. An ideal breakfast includes a combination of fiber from whole grains and produce, along with lean protein and some good-for-you fats. 2 / 9
Reap the benefits of tracking
Logging your food and beverage consumption can help keep you on track to eating the right foods at the right times. It can also help boost weight loss. The more consistent you are with tracking, the better your results will be, and technology can help.
In one 2021 study published in Translational Behavioral Medicine, 225 adults who were obese or overweight tracked their diet on an app over the course of a six-month weight loss program. Those who most consistently tracked were the only ones who reliably lost weight.
The Sharecare app, available for Android and iOS, includes a tracker that lets you record the quality of your meals.
Read on for seven tracker-worthy breakfast options. 3 / 9
Overnight oats
A busy morning shouldn't be an excuse to skip breakfast. Overnight oats are a quick and versatile AM option that can be prepped the night before and enjoyed on the go. In a jar or airtight container, combine one part oats with two parts liquid of choice—water, nonfat milk, and unsweetened almond milk are good options.
You can sweeten the deal (without adding too much extra sugar) in a number of ways. Try adding a teaspoon of vanilla extract, a tablespoon of unsweetened cocoa powder, or a sprinkle of calorie-free stevia before giving your mixture a stir and placing it in the refrigerator for the night. When you're ready to eat, add a cup of your favorite fruit, like mixed berries, and dig in.
A breakfast made with a half cup of oats, one cup of unsweetened almond milk, a teaspoon of vanilla extract, and a cup of strawberries contains just under 400 calories. It also boasts 15 grams of protein and 11 grams of fiber, which can help lower your heart disease risk, keep your digestion regular, and maintain a healthy weight. 4 / 9
Huevos rancheros
No need to wait for a table at your favorite brunch spot to enjoy this flavorful meal. Making huevos rancheros is easier (and healthier) than you might think. You'll need just a few ingredients: one tortilla, one whole egg, a teaspoon of olive oil, and a quarter cup of salsa.
Heat half your oil in a frying pan, and fry one egg until desired doneness. Heat the remaining olive oil in a separate pan, warming both sides of your tortilla. As the tortilla begins to crisp along the edges, spoon on your salsa. Transfer your salsa-topped tortilla to a plate and finish with your fried egg. The egg's protein content—6 grams—will help keep you feeling full and help you avoid mid-morning snacking.
Calorie counts will vary depending on the tortilla and salsa, but you can use a few tricks to ensure your breakfast stays around 235 calories. Choose a fresh salsa with whole ingredients and no additives, or combine tomatoes, onions, jalapenos, and lime juice to create your own. And try scouring the bread aisle or refrigerated section for tortillas that contain fewer than 100 calories each. 5 / 9
Egg-stuffed avocado
This Instagram-worthy breakfast looks too good to eat but it's actually easy to whip up. Slice one medium avocado in half and place onto a baking sheet. Crack one whole egg into the center and bake at 425 degrees Fahrenheit for 15 to 20 minutes. Top with sliced green onions, a drizzle of hot sauce, or your favorite fresh herbs before cutting into your creation. This baked breakfast contains about 235 calories.
For a dose of sweetness and a punch of healthy carbohydrates, slice up a cup of your favorite fruit to munch on the side. A cup of apple slices contains 57 calories, the same serving of blueberries has 84 calories, and a cup of watermelon cubes has 46 calories.
This morning meal is loaded with around 15 grams of healthy monounsaturated fats, which contribute to lower cholesterol levels and a reduction in heart disease and stroke risk. 6 / 9
Mashed sweet potato bowl
This is another easy make-ahead option for breakfast, filled with savory autumn flavor. At the beginning of the week, bake or boil a few peeled sweet potatoes, mash them up, and store them in an airtight container in the fridge until you're ready to build your bowl.
The orange mash makes a great base for toppings like nuts or nut butters, bananas, or a dollop of nonfat Greek yogurt. Per mashed cup, sweet potato contains 180 calories, plus 4 grams of protein and more than 750 times the daily recommended amount of vitamin A, which your body needs to produce white blood cells and to promote proper vision and immune function.
Calculate the calories of your meal based on your toppings and be mindful not to overdo it. One tasty option—a cup-sized serving of mashed sweet potato adorned with one medium banana and a tablespoon of salt-free almond butter—contains 385 calories. 7 / 9
Southwest egg scramble
Scrambled eggs come together in just minutes, but all alone, they can be bland and boring. This southwest-inspired dish contains loads of color, flavor, and nutrition.
In a nonstick skillet, sauté a tablespoon of chopped white onion and a quarter cup of diced bell pepper. Add two tablespoons of black beans and two whisked eggs or egg whites and cook through. Top with a tablespoon or two of fresh salsa for a tasty dish that contains under 200 calories. (It'll be 100 calories fewer if you opt for egg whites instead of whole eggs.)
Beans and whole eggs pack about 8 grams of protein per serving. The amount of protein you need each day can depend on your age, sex, and weight, but current U.S. dietary guidelines generally recommend that average-sized women aged 19 and older should eat 46 grams (g) per day. Average-sized men should aim for 56 g. Starting your day with this meal helps you reach this goal. 8 / 9
Chia pudding parfait
Chia seeds are a superfood sensation. You can enjoy them in lots of creative ways: blended into smoothies, sprinkled over salads, or added to the top of picture-worthy acai bowls. Per ounce (about 2 tablespoons) the small black seeds contain 4,915 milligrams of omega-3 fatty acids. These fats are essential for optimal health, but the human body can't produce them, so a diet rich in foods like chia and flax seeds, certain fish, and walnuts is important. Omega-3s provide energy and aid in the functioning of many cells in the body, especially brain cells and immune cells that help control inflammation.
The night before you plan to enjoy your pudding, measure a quarter cup of chia seeds and one cup of unsweetened almond milk into an airtight container and stir. Add flavors like unsweetened cocoa powder, stevia, cinnamon, maple syrup, or honey. In the morning, top your pudding with unsweetened coconut flakes, sliced fruit, or granola, and dig in. Calories will vary depending on toppings, but the plain pudding sweetened with a teaspoon of honey contains approximately 290 calories. 9 / 9
Avocado toast
Skip a trip to the café and create this wholesome morning meal at home. Grab a slice of whole-grain bread, toast until desired crispiness, and layer on half a ripe, mashed avocado. Go the savory route and top with a squeeze of lemon juice and a sprinkle of crushed red pepper flakes or sweeten up your toast with a combination of sliced strawberries and a drizzle of balsamic vinegar.
Depending on the calories in your bread and your toppings of choice, the nutrition for this meal will vary. Some multi-grain toast varieties can keep this breakfast around 230 calories without extra toppings. Whole grains are rich in fiber, and one slice of toast contains about 8 percent of the daily recommended value. Not only does ample fiber help keep your digestive system regular, it also helps control blood sugar levels and hunger.
Avocado is loaded with heart-healthy monounsaturated fats, almost 10 grams in half the fruit, which can help ease inflammation and lower cholesterol levels and help keep you feeling fuller, longer. Half an avocado also boasts about 7 grams of fiber. With a breakfast so quick to put together, there's no reason to skip a morning meal. Replay Slideshow
Slideshow sources
Duan D, Pilla SJ, Michalski K, Laferrère B, Clark JM, Maruthur NM. Eating breakfast is associated with weight loss during an intensive lifestyle intervention for overweight/obesity. Obesity (Silver Spring). 2022;30(2):378-388.
Santos HO, Genario R, Macedo RCO, Pareek M, Tinsley GM. Association of breakfast skipping with cardiovascular outcomes and cardiometabolic risk factors: an updated review of clinical evidence. Crit Rev Food Sci Nutr. 2022;62(2):466-474.
Robertson MC, Raber M, Liao Y, et al. Patterns of self-monitoring technology use and weight loss in people with overweight or obesity. Transl Behav Med. 2021;11(8):1537-1547.
United States Department of Agriculture. Dietary Guidelines for Americans, 2020-2025. Accessed May 13, 2022.
Gutiérrez S, Svahn SL, Johansson ME. Effects of Omega-3 Fatty Acids on Immune Cells. Int J Mol Sci. 2019;20(20):5028. Published 2019 Oct 11.