According to the 2010 Dietary Guidelines, a serving of fruit is equal to 1 cup of raw, cooked fruit; 1 cup of 100% fruit juice; or ½ cup dried fruit. The new MyPlate guide categorizes fruits into one cup servings. A small apple; a large banana; 32 grapes; a medium pear; 1 small wedge of watermelon; 8 large strawberries; ½ cup of dried fruit; or 3 plums all count as a one cup serving.
Here are examples of fruit serving sizes:
apple: 1 small (4 ounces)
applesauce (unsweetened): 1/2 cup
banana: 1 medium (4 inches)
blueberries: 3/4 cup
cantaloupe or honeydew: 1 cup cubed
cherries: 12
fruit cocktail (own juice only): 1/2 cup
grapefruit: 1/2 medium
grapes: 17 small
juices (100 percent fruit): 4 to 6 ounces
kiwifruit: 1 (3 1/2 ounces)
orange: 1 medium
peach: 1 medium
plums: 2 small
prunes: 3
raisins and other dried fruit: 2 tablespoons
raspberries: 1 cup
strawberries (whole): 1 1/4 cups
watermelon: 1 cup balls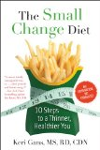 One serving equals a piece of fruit about the size of a regular light bulb; 1/4 cup dried fruit; 6 oz. fruit juice; or 1/2 cup fresh, frozen, or canned fruit. Aim for four or five servings daily (three if you have diabetes).
Continue Learning about Eating Habits and Nutrition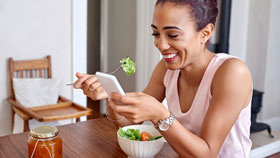 Three meals a day or five? That's only one aspect of the behavior known as eating habits. There is also the matter of style. Do you plan your meals or eat on the run - do you eat when you are happy, sad, or stressed - these are ot...
hers. Recognizing your eating style can help you work to achieve healthier eating habits.
More