Prolonged deep belching after eating is almost certainly due to excessive swallowing of air. (The medical term for this is "aerophagia.") When food is gulped down, large amounts of air are swallowed as well.

If quick swigs of a beverage are swallowed to help "wash down" the food, even more air is apt to get swept into the lower esophagus and stomach. And you can imagine how the problem is compounded if the beverage is carbonated. The end result is a large pocket of air just waiting to come back out.

We used to think that the pocket of air resided in the upper stomach and was released when the lower esophageal sphincter (a muscle ring) relaxed. But a recent study suggests that most air never gets all the way down to the stomach. Rather, it builds up in the lower esophagus and bellows out once the muscle ring at the top of the esophagus relaxes. The result is a large, resonant belch.

Air swallowing also may occur in folks who smoke, chew gum, or have anxiety problems. But big belching occurring directly after a meal is usually due to poor eating habits. Chewing food slowly and separating swallowed solids from liquids is likely to produce a quieter meal for all at the table.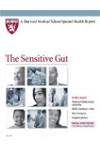 More About this Book
Harvard Medical School The Sensitive Gut
DO YOU EXPERIENCE FREQUENT STOMACHACHES OR EXCESSIVE GAS AFTER EATING? DOES EATING A SIMPLE MEAL LEAVE YOU WITH A FEELING OF HEARTBURN? DO CONSTIPATION AND DIARRHEA PLAGUE YOUR LIFE? If you answered...
Continue Learning about Digestive Health