Tarry stools are bowel movements that have an unusually dark appearance, usually due to blood in the stools, that causes them to look black and resemble tar. Medical providers sometimes use the term "melena" to describe tarry stools.

Bleeding that takes place in the esophagus, stomach or the upper part of the small intestine can cause the stool to appear black or tarry. Such bleeding may be due to abnormal blood vessels in this part of the digestive tract, swelling or inflammation of the stomach (gastritis), bleeding ulcers or tearing of the esophagus caused by severe vomiting.

In some cases, tarry stools can have a much less worrisome cause; they can simply be due to the color of something you ate, such as black licorice or blueberries, or to medications such as iron pills or bismuth-containing medicines taken to settle an upset stomach. Constipation can also sometimes cause tarry stools, especially in children.
Continue Learning about Digestive Health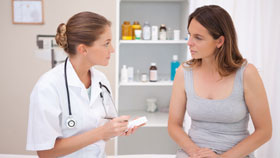 The digestive system includes all parts of the body that process food and expel waste, from your mouth to the end of your digestive tract. Diseases of the gastrointestinal tract prevent your body from effectively using the food yo...
u eat. Learn more about digestive health from our experts.
More