You can eat healthfully as a family by following below given:
Try to have one meal as a family at least once a day. It can even be breakfast!
If your family is always "on the go," designate family dinner nights.
Find recipes that are easy to make. Spend your time with the family, not in the kitchen.
Turn off the television, and avoid answering the phone during the meal.
Make family mealtime the top priority.
Eat around a table, not side-by-side at a counter. Eating around a table is better for conversation and eye contact.
Keep family mealtime positive, a time that everyone enjoys.
Eating together as a family is the best way to teach children healthy eating habits for a lifetime, but as indicated above, the benefits of eating together as a family extend far beyond this.
Preparing meals that are fun and delicious are sure always a hit at the dinner table. The method of preparing the food counts too! Foods that are fried, soaked in sugar or doused with salt are likely to be higher in calories and unhealthy ingredients. Opt for healthier methods of cooking like baking, boiling or steaming. Parents can arrange food on the plate in fun shapes and colors are a sure way to make meal time and eating exciting for kids.
Simple steps to eating healthier with your family:
Try to sit down together for at least one meal per day.
Plan that meal together.
Balance—have something from all the food groups offered at the meal.
Leave the food on the stove, dish up plates and bring to the table, make the meal time about family sharing and not over eating.
Make dessert a rare occasion instead of every night.
Processed foods contain too much saturated fat, sodium, sugar and calories, which can be unhealthy. Oftentimes busy parents rely on consuming processed foods daily to feed their families. If this is your family, you can improve your family's eating habits by making healthier food selection and preparation choices on most days. Start with one day a week and gradually increase to at least four days a week. You should try to make gradual changes that your family can learn to adopt, which increases the chances the healthy eating changes will become permanent.

Food selection
Select more fresh and frozen meats vs processed meats.
Select more fresh fruits and vegetables vs canned vegetables.
Select more whole grain starches vs processed starches.
Select more 100 percent fruit juices vs fruit drinks or sodas.
Select more low fat or non fat dairy vs dairy containing whole milk.

Food preparation
Meats: Try baking, broiling, grilling or any method that doesn't add fat or involve frying.
Vegetables: Try steaming to retain more nutrients.
Seasonings: Try seasoning foods with herbs and spices (naturally sodium free).
Starches: Avoid adding extra fat (e.g., margarine or butter) to starches when cooking.

Food portions
Follow the MyPlate guidelines
1/2 Plate: Fruits and Vegetables
1/4 Plate: Lean Protein
1/4 Plate: Whole Grains
A registered dietitian can provide you with additional guidance for improving your family's diet if needed.

I like to bring the kids to the farmers market with me so they can pick out a couple of new fruits or vegetables that look good to them. (They actually look forward to it!) Then, we look at recipes and they can pick which one sounds best or they come up with their own.
When cooking the veggies they've picked, they have the option to help make that part of dinner too.
I try to make a few vegetable with dinner each night, since the kids have different likes and dislikes. I make sure they each have at least 2 veggies with dinner, with the goal of three to four.
We eat a lot of processed foods because they are convenient, and often simple modifications can not only improve your family's diet, but prevent more serious diseases later in life. A strategy for healthier grocery shopping is to focus on the outer sections of the store, where the fresh produce and foods are usually based. Stay away from the inner aisles, which feature processed foods. Make cooking healthy meals part of the family routine. There are many online resources for recipes that feature fresh, whole foods and ways to eat well without breaking the budget.
Here are some goal-setting tips:
Start as a family. Sit down and come up with goals together. That way, everyone can take ownership and cooperate.
Set no more than three goals at a time. If you try to make too many changes at once, your family will be overwhelmed.
Make each goal specific. "Exercise more" is a great idea, but it is not specific. "Take family walks four times a week" is much more concrete.
Be realistic. For example, the goal should fit your family's budget, schedule and cooking skills. If a goal is complicated, costs a lot or eliminates everyone's favorite foods, then your family is unlikely to stick with it.
Identify obstacles. For example, you may have to ask Grandma to stop bringing over a big batch of cookies every Sunday. Instead, maybe she could bring a fruit salad or just enough cookies for everyone to have one or two as a special treat.
Know that your family can do it. Help your family stay positive and focused.
Forgive your lapses and celebrate successes. Your family doesn't have to be perfect. If you miss a few days, relax. Get back on track as soon as you can. Remember, changing habits take time. When your family reaches a goal, reward yourselves with nonfood prizes, such as a trip to the movies or park.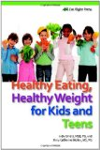 Get the family involved in meal planning. If your kids are old enough to flip through magazines and books, find some healthy recipes (I like Clean Eating Magazine and Eat Clean Cookbook) and give each of your children a different colored highlighter. Let them flip through the pages and place a mark by the recipes they wish to try. If your kids are old enough to help in the kitchen (even toddlers can wash fruit!) allow them some hands on time in the prep process. This helps most children get over the fear of the way things look "different." If they've had a hand in preparing a delicious and nutritious meal, they are more apt to partake in the spoils! Limit desserts as a whole. Sugary desserts should be a "sometimes" treat. Never use food as a reward or punishment. Teach your children that food is to be used to nourish the body and occasionally enjoyed as a treat. (Yummy birthday cupcake anyone?)
If you and your family feel up to the task, make grocery shopping a family affair. Have your kids read labels so they can learn about healthy ingredients and make healthy food choices. If your family has a favorite comfort food (mac and cheese, chicken pot pie, fried chicken, etc.) search for healthier, cleaned up versions.
Remember to involve everyone so that they don't feel like healthy eating is being pushed on them. Plan meals, go grocery shopping together and enjoy the occasional treat. This will ensure healthy eating habits and long, healthy lives to come.
With today's busy lifestyles, families don't always eat as healthfully as we would like. By practicing healthy eating habits at home, you can make it easier for your family to eat right. Try these 10 tips designed to encourage healthy eating habits:
Be a good food role model. Telling children to eat nutritious foods is one thing. Showing them is better.
Serve a variety of fruits and vegetables daily.
Schedule a snack time and stick to it. Space snacks at least two to three hours before a meal.
Involve kids in meal planning and preparation. Children often will eat foods they help plan and prepare.
Keep less-healthful foods on a higher shelf where they won't be noticed as much.
Eat as a family. If possible, eat together at least once a day. If it's breakfast, set the table the night before for less effort in the morning.
Don't eat in front of the TV.
Encourage your family to try new foods, expanding your knowledge, experience and skills.
Let kids stop eating when they say they're full. Encourage your child to eat slowly and pay attention to feeling full. By learning hunger and fullness cues, your child will learn to eat enough, but not overeat.
Eat around a table and enjoy your meal. Avoid arguing or complaining at the table. A stress-free meal that is neither rushed nor prolonged promotes family bonding and helps everyone enjoy what they're eating.
Here are some tips on how to help your family eat healthy:
Make an appointment for family dinner. Busy families have to make an effort to eat together. But it can be done. Post a family schedule in the kitchen, and circle the time you'll meet for the evening meal each night. If you have to rearrange your day or say no to an event so you can make the meal, do it.
Stop grazing. Teens and adults usually need three meals and one or two healthy snacks a day. Younger children may need to eat every three or four hours throughout the day. Set meal and snack times—and don't allow yourself to graze in between times. Drink water to tide you over. Did you know that thirst is often mistaken for hunger?
Have everybody help with cooking. Even young children can help with cooking healthy foods at home—stirring, pouring and washing foods as needed. Older children and teens can take over cooking duties some nights of the week.
Limit fast food. Make it a family rule to eat fast food less than two times a month. You'll save money, feel better—and probably find that a simple homemade meal is just as fast.
Sit down and slow down. Meal times should be restful, not rushed. Enjoy your food—and enjoy the company (without the TV on!). Stay at the table for at least 30 minutes.
Eat only in the dining room or kitchen. If you're eating in every room of the house, you're probably eating all the time.
Don't eat in the car. Plan enough time to go into the restaurant and sit down to eat. If you're traveling, look for a park or rest stop to picnic in.
When things get complex—keep meals simple. You don't have to spend hours and hours cooking. Make a list of six or seven quick, healthy meals to work from.
"Lateral shifts" provide a great opportunity to upgrade your family's favorite meals. Maybe your kid wants meatloaf and mashed potatoes. You can upgrade to grass-fed beef and have faux-tatoes (mashed cauliflower). Be creative and every meal becomes a lateral-shift opportunity.
The good news is that there are so many ways to get your family to eat better! My number one tip is to try and eat together at least three to four times per week. Numerous studies have shown that kids who eat dinner with their families eat more fruits and vegetables and also score higher on tests. If you can't all get together for dinner, try sitting down for breakfast as a family.
Another way to improve what your family eats is to cook more and eat less processed and fast food. Cooking meals from scratch translates to eating less sodium and unhealthy fats. You'll also skip preservatives and you might even save money! You don't need to slave over the stove every night either—if you take time to cut up vegetables and cook whole grains on Sunday (or whatever day you have some spare time), you'll save time prepping meals throughout the week.
Set a good example for your kids. Believe it or not, parents are the biggest influence on what their kids eat. So if you're not eating your broccoli, they won't either! Make sure your kids see you eating—and enjoying—healthy foods like fruits, vegetables and whole grains. If they're resistant to eating healthy things, take them to the store or the farmer's market and let them pick something out that they'd like to try. Look for a recipe together and then cook something up. If your child plays a role in what's for dinner, he or she will be more excited to eat it.
Have fun! For more tips and recipes, check out my cookbook, Eating in Color: Delicious, Healthy Recipes for You and Your Family.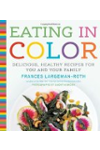 Continue Learning about Diet & Nutrition