6 Sneaky Autumn Swaps That Slash Calories
Don't miss out on your favorite fall treats—just make them skinnier.
Medically reviewed in July 2022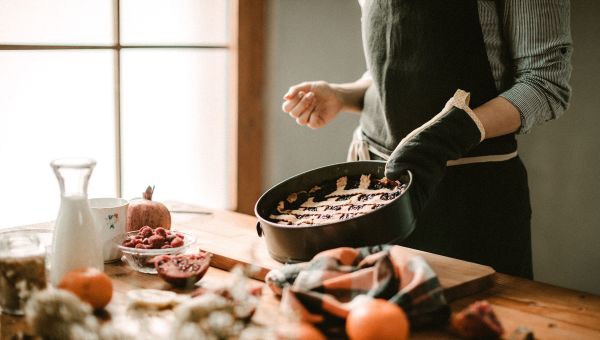 1 / 7
From apples to pumpkins to pecans and more, the season's treats are rich in color, flavor and, unfortunately, calories.
You don't have to forfeit your favorites to avoid going up a pant or dress size. And it's a good thing, because a sugared doughnut and steamy glass of apple cider are a must during a trip to the pumpkin patch, and a slice of warm apple pie—with ice cream, of course—the perfect way to end your Thanksgiving feast.
Kris Kinney, RD, a registered dietitian with Swedish Medical Center in Denver, Colorado, reveals some better-for-you versions of your seasonal favorites. They're so simple and easy, you won't even miss the real thing. 2 / 7
Sip guilt-free hot chocolate
A mug of hot cocoa is the perfect cold weather companion.
It's hard to believe something so comforting is so unkind to your waistline. Two tablespoons of the leading powdered mix whisked with 8 ounces of whole milk and topped with two tablespoons of whipped cream will run you 240 calories. Not to mention, it's loaded with unhealthy saturated fat, too.
Kinney recommends replacing whole milk with nonfat milk or almond milk, serving up just half a glass and skipping the whip. One tablespoon of mix with 4 ounces of unsweetened almond milk creates a nightcap with just 55 calories.
Better yet: In a sauce pan over medium heat, combine one cup of unsweetened almond milk, a teaspoon of vanilla extract and two tablespoons of unsweetened cocoa powder. When the milk is warm, pour into your favorite mug and sprinkle with a dash of cinnamon. This healthier version is free of added sugars, low in saturated fat and contains about 65 calories. 3 / 7
Skip the crust on your pumpkin pie
What's autumn without a piece (or two) of pumpkin pie? Unfortunately, a single slice, one-eighth of the pie, contains about 325 calories. And believe it or not, "pumpkin pie isn't as high in calories as apple pie or other fruit pies," Kinney says.
It's possible to get your pumpkin fix without sabotaging your healthy efforts. Just ditch the most calorie-dense portion of the pie: the crust. Eliminating the crust alone saves 100 calories and 6 grams of fat per slice.
Why stop there? Many recipes call for two or three eggs. Kinney recommends replacing each egg with two egg whites; that shaves off another 40 calories each. 4 / 7
Opt for apple crumble
Apple pie is the all-American dessert, and the centerpiece on many Thanksgiving Day tables. Unfortunately, this classic contains about 410 calories per slice. If the pie has a top and bottom crust, about 200 of these calories come from the flaky stuff alone.
Just skip the crust! Slice five of your favorite baking apples, like fuji or granny smith. Add them to a mixing bowl with a bit of cornstarch, cinnamon, nutmeg and fresh lemon juice. Coat your fruit in these healthful ingredients and place them in a baking casserole.
In a small bowl, combine one cup of rolled oats, a dash of ground cinnamon, one teaspoon of vanilla extract and a drizzle of maple syrup. Crumble the mixture on the apples and bake at 350 degrees Fahrenheit for about 40 minutes, until the apples are soft, and the crumb topping is golden brown. The recipe makes about eight servings. Dish up a half-cup portion for a treat with just 125 calories. 5 / 7
Go nuts for healthy pecan bars
Nut are loaded with heart healthy fats and good-for-you nutrients. A single serving of pecans, about 19 halves, contains 195 calories, and boasts a healthy dose of manganese—essential for the health of your bones, liver and organs. Since these nuts are calorie dense, portion control is important.
Plus, once you fold pecans into a classic pie, they can quickly become a calorie bomb with more than 500 calories per slice. Instead, whip up healthier pecan bars. The best part? You don't have to bake them!
In a food processor, blend 2 cups of pitted dates with 2 cups of raw pecans until they form a thick, sticky dough. Press the mixture into an 8 x 8 inch parchment-lined pan and let set in the fridge for two hours. Slice into eight pieces and enjoy right away or store in an airtight container. Each of these two-ingredient treats contains just 305 calories. 6 / 7
Savor a "skinny" pumpkin spice latte
Are you a fan of the PSL? Unfortunately, a 16-ounce latte from a leading coffee vendor, made with whole milk and topped with whipped cream, contains 420 calories.
If you're out and about when cravings strike, Kinney offers a few tricks to sip fewer calories:
Order an 8-ounce latte to save 200 calories
Ask for nonfat milk and cut 50 calories per 8-ounce serving
If available, choose sugar-free syrup
Save money and calories by making one at home. Brew a shot (or two) of espresso and mix in a sauce pan with one cup of nonfat milk, a heaping tablespoon of pumpkin puree, a splash of vanilla extract and a dash of pumpkin pie spice. Whisk over medium heat until combined and ladle into your favorite mug. Garnish with a cinnamon stick and another sprinkle of pie spice for a guiltless autumn treat with just 105 calories. 7 / 7
Pan-fry apple "doughnuts"
No trip to the apple orchard is complete without a cider doughnut, but one fried treat can run you about 230 calories, plus 8 grams of sugar and 14 grams of fat. Instead, bring home your freshly picked produce and whip up a sweet snack.
To make these doughnut-like apple rings, wash one large apple and slice into ¼-inch rings. One apple should give you five or six. Carefully cut the core out of the center and dip each in a mixture of ¼ cup of flour and 2 tablespoons of unsweetened almond milk.
Add 1 tablespoon of vegetable oil to the bottom of a nonstick pan and lay in your coated apples. Fry, flipping once, until each side is golden brown and the apple tender. This should take a few minutes. Sprinkle your warm rings with cinnamon and get to eating.
For an apple that yields 5 slices, each piece contains about 53 calories. Replay Slideshow