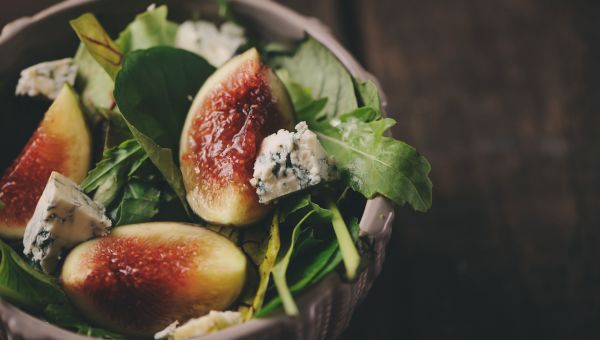 7 Warm Salad Recipes Under 500 Calories
Swap this summer staple for healthy and hearty cold-weather creations.
1 / 8
By Taylor Lupo
Digging into a big salad is a great way to get your daily dose of veggies and the nutrients your body needs—and makes summertime meal prep a breeze. But salads don't have to be a one-season meal. Enjoy the flavors of dark greens and in-season veggies, even after the autumn chill sets in.
Fall fruits and veggies, like beets, Brussel sprouts, apples and pears make tasty additions to your salad. And they're even better served warm. "Grilling is great for fall fruits and veggies," says Tammy Baranowski, RDN, a registered dietitian with Orange Park Medical Center in Orange Park, Florida. "You can broil them, roast them, and if you're in a time pinch, you can just saute them on top of the stove."
Check out some of the tastiest fall fruits and veggies to add to your warm salad recipes. 2 / 8

Healthy Grilled Caesar

Forget what you think you know about Caesar salads—this recipe is a salad lover's dream-come-true.

First, slice hearts of romaine sliced in half, brush with a light layer of heart-healthy olive oil and toss on the grill. It sounds weird, but it tastes delicious!

Top your grilled romaine with a three-ounce serving of grilled chicken breast and a drizzle of homemade Caesar dressing. To whip up your own dressing, combine a tablespoon of plain non-fat Greek yogurt, a sprinkle of grated parmesan cheese, a squeeze of lemon juice, a dollop of Dijon mustard and garlic, and salt and pepper to taste.

This salad tastes indulgent but packs only 300 calories per serving.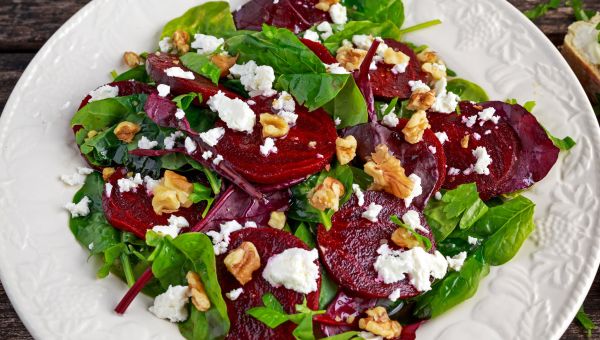 3 / 8

Roasted Beet and Arugula

This recipe comes with a nutritionist's seal of approval. "I mix one cup of a spicy green, like arugula, with one cup spring mix, and top it with two roasted beets, one quarter of a cubed avocado, one ounce goat cheese, one tablespoon walnuts and one tablespoon unsweetened dried cranberries," says Baranowski.

This salad is jam-packed with vitamins, minerals, heart-healthy fats and, perhaps most importantly, flavor. The greens are loaded with vitamin A, which helps promote a healthy immune system and beets, dubbed a superfood, contain manganese, beneficial for bone health and metabolism.

Avocado, olive oil and walnuts contain unsaturated fats that help lower bad cholesterol levels. High cholesterol can up your risk for heart disease, the leading cause of death among American men and women.

Finish off your toasty salad with a homemade dressing. "I typically make my own vinaigrette, with olive oil, vinegar or lemon juice and a touch of honey," Baranowski says.

Dig into this dish for just 405 calories. 4 / 8

Warm Farro with Feta

Don't limit your salads to just fruits and veggies—whole grains add loads of fiber and flavor to every bite. Boil a quarter cup of farro, following the directions on the package, and get ready to load on even more tasty ingredients.

The fall weather produces a bounty of leafy greens. "There's such a variety of greens that are at their best in the fall—Swiss chard, Belgium endive, radicchio and spring mix," says Baranowski. Wilt down a heaping handful of your favorite and fold it into your farro.

Top the mixture with a cup of oven-roasted broccoli or any of your favorite cruciferous vegetables, like cauliflower or Brussel sprouts, and a tablespoon of feta cheese. Farro contains seven grams of protein, and broccoli contains another three. If you're looking to maximize your protein intake, add a grilled salmon filet, which contains 17 grams in every three ounces.

With a salmon filet, this salad contains only 460 calories, so eat up! Your heart, and your taste buds, will thank you. 5 / 8

Toasted Veggie Medley

This veggie-rich dish is the perfect weeknight meal to whip up when you're short on time. Chop up the seasonal veggies you have stocked in your fridge and roast, grill or saute. Think cauliflower, sweet potatoes, carrots and bell peppers.

The best thing about the fall veggies? "Roasting and serving them warm really brings out the flavors," says Baranowski. Add some extra flavor by sprinkling your favorite spices onto veggies before roasting. "[Fall] veggies pair well with spices like curry, cinnamon and sage."

Lightly drizzle chopped veggies with olive oil and spices. Then, toss about two cups of your roasted vegetables on a bed of chopped kale. Two cups of kale contain just 70 calories and some heart-healthy omega-3 fatty acids, but are loaded with vitamins K and A. Vitamins A and K are important for the production of healthy white blood cells and building strong bones, and omega-3s can help lower your risk for heart disease.

In no time at all, enjoy a warm, hearty salad that contains just 330 calories. Toss in a quarter cup of roasted chickpeas for only 67 calories and about 4 grams of protein.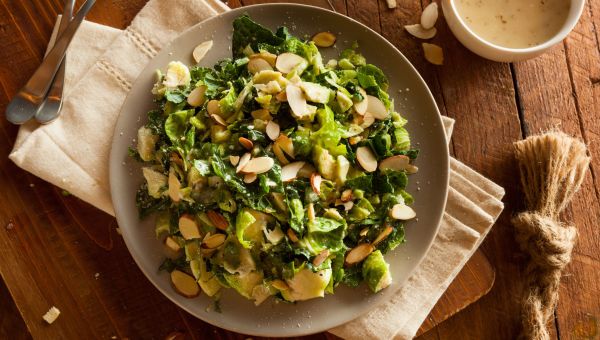 6 / 8

Warm Brussels Sprouts and Pears

Even though they're stinky, Brussels sprouts are nutrient powerhouses. They're loaded with vitamin K and folate, essential to proper blood clotting and DNA formation. They're also packed with flavor, and taste incredible with sweet, juicy pears. Ditch the leafy greens for this recipe—these ingredients taste better alone.

Slice two cups of Brussel sprouts, drizzle with olive oil and pop them into the oven until the edges are crisp and golden brown. Prep your pear while your sprouts roast. "Grilling fall fruits like apples and pears is great," says Baranowski. "Slice them thinly, add a light coating of oil, so they don't stick and grill them," she recommends.

This salad wouldn't be complete without a tangy dressing. Blend a tablespoon of olive oil, a teaspoon of apple cider vinegar, a squeeze of lime juice, a bit of honey and your favorite spices.

Load your plate and enjoy for only 390 calories. 7 / 8

Savory Sweet Potato and Turkey Bacon

Top a bed of spinach with tasty ingredients like turkey bacon, sweet potatoes and cinnamon, and your belly will thank you.

Chop one medium sweet potato into bite-sized pieces, spread them on a baking sheet and coat with a drizzle of olive oil and a dash of cinnamon.

While your sweet potato is roasting, prep the rest of your meal. In a saute pan, crisp up two pieces of lean turkey bacon. Then, top two cups of fresh baby spinach with the sweet potato pieces and crumbled turkey bacon.

Looking to add more flavor? Sprinkle on the zest of an orange, throw in a palm-full of pumpkin seeds or toss on a tablespoon of chopped nuts. Baranowski recommends: "Nuts and seeds like pecan, pepitas—a type of pumpkin seed—or walnuts, which are the best nutritional bang for your buck."

A tablespoon of pumpkin seeds contains fewer than 60 calories, bringing the grand total of the meal to just 345 calories.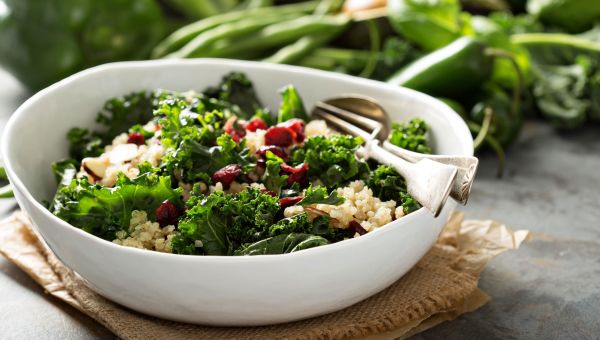 8 / 8

Wilted Kale, Apple and Quinoa

This salad pairs crunchy bites of apple with a warm, hearty, grain-based salad. First, boil a quarter cup of dry quinoa in water or, for more flavor, low-sodium vegetable broth.

While you're waiting for your grains, add a tablespoon of olive oil, chopped garlic and two heaping cups of chopped kale to a saute pan. Cook the kale, stirring occasionally, until your greens are tender. Mix the wilted kale with the warm quinoa and top with cubes of Macintosh apple.

This recipe is packed with vitamins from the kale, a helping of fiber from the quinoa and loads of flavor from this recipe's most potent ingredient—garlic.

Up the flavor and protein with a few grilled shrimp. This tasty salad will fill you up without weighing you down and with 480 calories—including the extra protein—you'll even have room left for a healthy dessert.

To eat healthy, pick foods that are the colors of the rainbow, and watch your portion sizes. Eating foods that are colorful-red apples, orange carrots, yellow squash, green salad, tomatoes, blueberries and purple eggplant-helps yo...
u add fruits and vegetables to your diet.
More