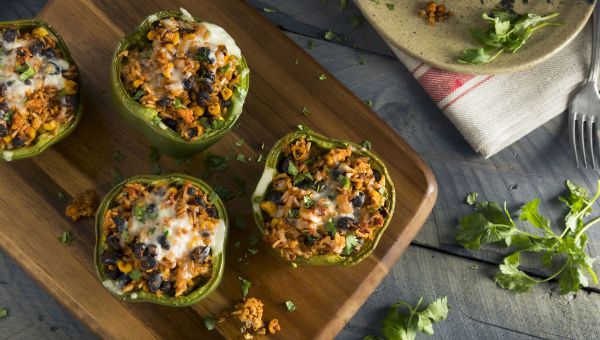 6 Fall-Inspired Slow Cooker Meals Under 500 Calories
A hearty, home-cooked meal was never simpler.
1 / 7
As the autumn chill sets in, it's no surprise that you crave warm, hearty and delicious meals. And fortunately, you don't have to spend hours in the kitchen to whip up a dish that's both tasty and nutritious. Just dust off your slow cooker and feast—effortlessly—all season long.
"Slow cookers are great because they're an efficient use of time, with relatively little cleanup," says Lauren Zimmerman, RD, a registered dietitian with Summerville Medical Center in Charleston, South Carolina. "Slow cookers are good for cooking root vegetables that take longer to prepare and tenderizing less expensive cuts of meat. Plus, the slow cooking process allows the flavors of herbs and spices to marinate with the food, so you can use less salt," she adds.
Read on for six tasty and simple slow cooker recipes that will warm you up without adding inches to your waistline. The best part? They all feature your favorite fall flavors! 2 / 7

Creamy Steel-Cut Oats

Don't relegate your slow cooker to dinner duty only. This versatile appliance is great for whipping up breakfast, too.

Toss the ingredients for this steel-cut oatmeal into your cooker the night before, and enjoy sweet oats in the morning. Steel-cut oats have a different texture than typical rolled oats, and contain a bit more fiber and protein, which make them ideal for kick-starting your morning.

Zimmerman recommends using a four-to-one ratio, so scoop in 1 cup of oats before measuring 4 cups of your favorite liquid—water, low-fat milk and unsweetened almond milk are good options.

Want to eat breakfast like a dietitian? "Cinnamon, chia seeds and ground flaxseeds are good staples," Zimmerman says. "I add a chopped apple to the oats for natural sweetness and a little vanilla extract, too." One-fourth of a cup of dry oats, made with 1 cup unsweetened almond milk, 1 tablespoon each of chia seeds and flaxseeds and a 1/4 of an apple, contains just 405 calories.

Top your bowl with your favorite fresh fruit, healthy granola, a drizzle a maple syrup, fresh preserves, honey, peanut butter or any other tasty combination—just don't overdo it with the toppings!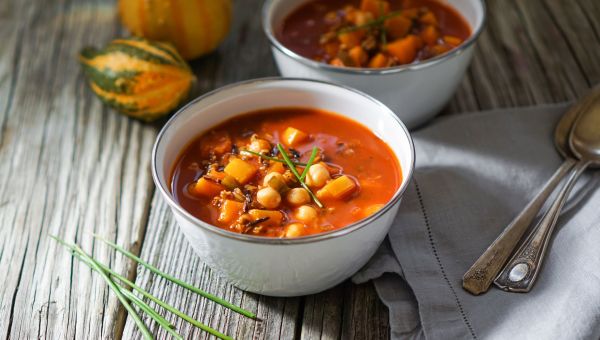 3 / 7

Belly-Warming Pumpkin Chili

Nothing screams "fall" like the flavor of pumpkin. From lattes to pies, the season just isn't complete without this quintessential autumn flavor. Let's not forget, pumpkin isn't only great for desserts—it can be the star in savory dishes, too.

Before you dash to work, load your slow cooker with a few healthy chili ingredients: a 15-ounce can of pureed pumpkin, two 15-ounce cans of your favorite beans, one chopped onion, two cloves of minced garlic and your favorite herbs and spices.

Pumpkin adds vitamins and minerals to the dish, like vitamin A, which is important for your vision and a healthy immune system. And beans contain fiber, essential for healthy digestion and protein, necessary for the growth and repair of your body's cells. Pro tip: Before loading in your beans, give them a good rinse to get rid of any excess sodium.

If you're looking to maximize the protein in this dish, add one pound of browned and drained lean ground turkey to the mix. You can customize this pumpkin chili to your taste buds' content by tossing in any veggies you may have on hand. Ground turkey included, one-fifth of this pot contains only 385 calories. 4 / 7

Nutritionist-Approved Lentil Soup

If you're looking for a filling meal, this one-pot wonder is perfect for you. "It's a good vegetarian dish, really hearty and full of protein and fiber with just a few ingredients," says Zimmerman.

To create this tasty concoction, combine 2 cups of soaked lentils—any color you'd like—with 4 cups of a low-sodium vegetable broth, one chopped onion, four sliced carrots, two cloves of minced garlic and ground black pepper to taste. Set the dial to low and let your soup simmer for about eight hours, giving the flavors time to marinate.

Once your meal is stewed to your liking, load your bowl with one-fourth of the batch. In addition to fiber, protein and bone-boosting manganese, this meal contains only 200 calories.

Zimmerman recommends pairing this dish with a slice of homemade zucchini bread or muffin, for a combined total of fewer than 330 calories. 5 / 7

"Skinny" Stuffed Peppers

Bell peppers are at the peak of perfection from summer to fall. And as tasty as they are on their own, these peppers make nutritious shells for a flavorful filling.

Slice the top off four peppers and clean out the seeds. On the stove, brown up 1 pound of lean ground turkey and combine with a cup of cooked brown rice, one chopped onion, an 8-ounce can of crushed tomatoes, one clove of chopped garlic and salt and pepper to taste.

After filling your peppers with the mixture, place them in your crockpot. Fill the space between the peppers with a bit of water or another can of crushed tomatoes. Set your slow cooker to low, and let the flavors marinate for six to eight hours. Ten minutes before you sit down to eat, top each pepper with a sprinkle of shredded low-fat mozzarella cheese.

One pepper contains fiber, protein, immune-boosting vitamin A and a whole lot of flavor for just 350 calories per serving.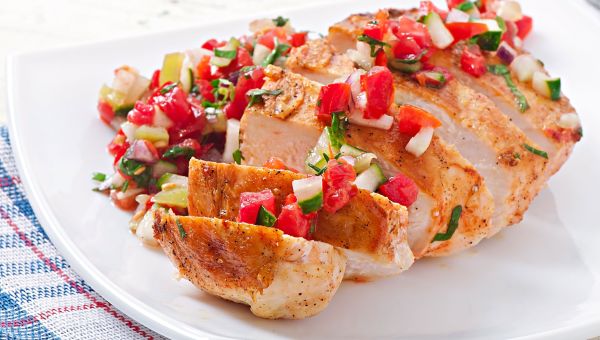 6 / 7

Savory Salsa Chicken

This two-ingredient chicken dish is oh-so-delicious and perfect atop a lunchtime salad or served with fresh veggies for dinner.

Place boneless, skinless chicken breast in the bottom of your slow cooker, and top with fresh salsa. Use 1/4 of a cup for every 3-ounce serving of chicken. Most grocery stores offer a selection of fresh salsa, but if you find yourself scouring the aisles to no avail, you can easily whip up your own. Chop and combine tomatoes, onions, garlic, jalapeno peppers—if you like a little kick—fresh cilantro and a squeeze of lime juice. You can also add a bit of sweetness with in-season fruits, like mango and pineapple.

"The chicken is so flavorful, and very tender cooked that way," Zimmerman says. "You can serve it on top of a brown rice or quinoa, put it in a whole grain wrap and eat it like a burrito or throw in some beans and top it with avocado or hummus," she recommends.

A 3-ounce serving of the chicken alone contains just 180 calories, so it's a perfect protein source for anyone looking to slim down.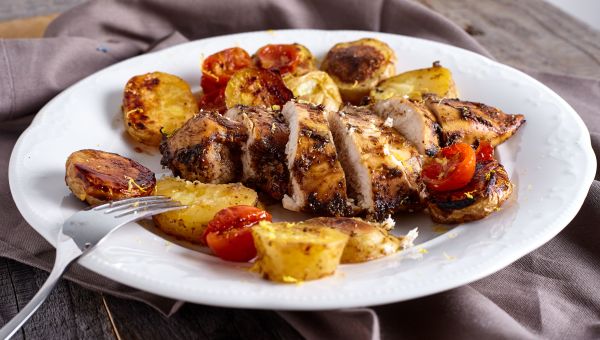 7 / 7

Mouth-Watering Apple Crisp

Apples are the perfect autumn fruit. They're great sliced atop your morning yogurt, make an easy grab-and-go snack to munch midafternoon and can be a sweet dessert. Plus, this in-season fruit is packed with the fiber and nutrients your body needs.

Here's one especially delicious way to get your apple a day: Make slow cooker apple crisp! Peel and chop four of your favorite apples and toss with a squeeze of fresh lemon juice and a generous sprinkle of cinnamon and nutmeg. Add the apples to the bottom of your crockpot while you work on the crispy topping.

Combine 1 cup of dry oats, 1/4 cup of your favorite chopped nuts, a drizzle of pure maple syrup and another dash of cinnamon, and sprinkle it over the apples. Close the lid and enjoy the fragrance and flavor of this warm apple dessert, post-dinner. One-fourth of this sweet batch contains just 255 calories, so dig in.

To eat healthy, pick foods that are the colors of the rainbow, and watch your portion sizes. Eating foods that are colorful-red apples, orange carrots, yellow squash, green salad, tomatoes, blueberries and purple eggplant-helps yo...
u add fruits and vegetables to your diet.
More